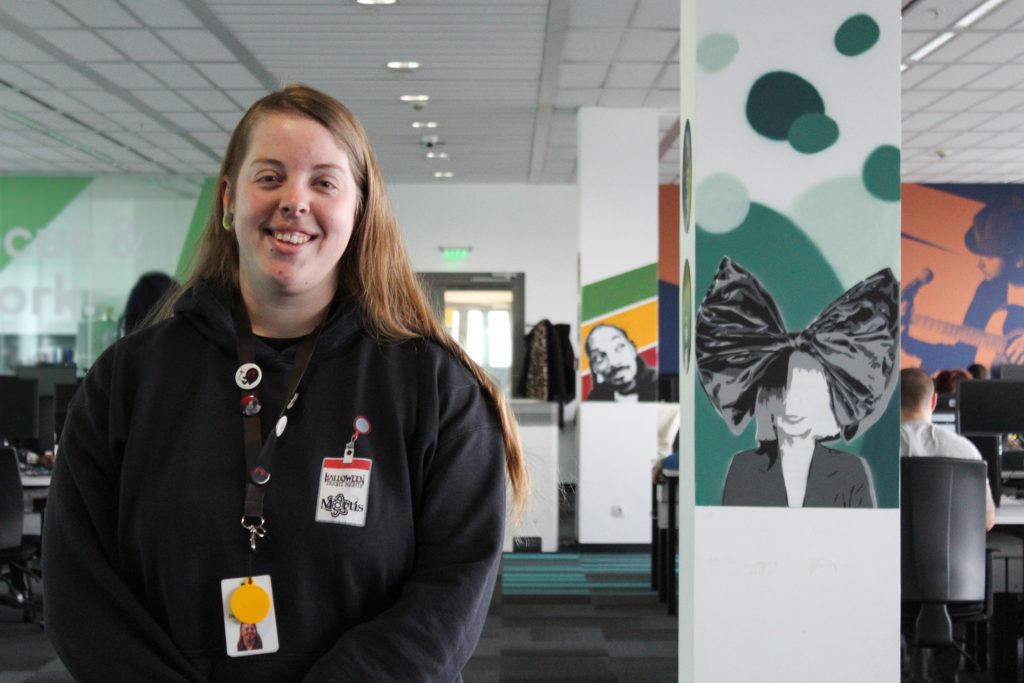 Denise Segveld is a Team Manager at the Spotify project in Sutherland and a talented graffiti artist.
She moved from The Netherlands to Bulgaria 2.5 years ago to start her Sutherland adventure. After 10 months she got promoted to Тeam Мanager, and currently manages the Spotify Dutch team. Her favorite thing about living in Bulgaria is the wonderful nature and she still gets used to the language.
She is passionate about stencil-art graffiti and we meet her in the middle of making her latest piece of art right here at Sutherland. Guess what, this is not her first artwork in the office. Her first graffiti made the atmosphere on our Spotify operation floors more vibrant and hip, in line with the nature of the project and her job.
Meet Denise!
1. Tell us few interesting facts about yourself and your talent?
I was always amazed when I saw artworks on the streets. From a very young age I was drawing graffiti tags on my schoolwork and I never stopped. I was watching graffiti documentaries and reading books and magazines about it. At some point I decided to make some artworks myself.
2. Tell us about the graffiti you are most proud of?
The graffiti work I'm most proud of is the portrait of David Bowie here in our office. It was the first portrait I did in such a big size and I really enjoyed doing it. Before that I made all portraits on smaller canvases, vinyls or pieces of wood. Besides that, David Bowie was an amazing artist and it's cool that we have a portrait of him in our office.
3. Tell us a funny situation that happened while you were making graffiti?
Once I was making a graffiti piece on a festival in the Netherlands. A police officer came and normally they don't like graffiti artists. However, this police officer decided to make a picture with me and my artwork, that was pretty cool!
4. Tell us your story of moving to Bulgaria and joining Sutherland? 
I went on a city trip in Sofia and fell in love with the city. One of the things I loved was of course the huge amount of graffiti on the streets. Bulgaria has amazing graffiti artists. I decided to apply and when I found out there was a Spotify project I thought that was great! I moved 5 months after my city trip.
5. How does Sutherland inspire your art?
Since I work for Sutherland at the Spotify project, I did many artworks in our office. First we created a wall with LP's with portraits of artists on it. And later I got to do the big portraits. It's amazing that I can do such things in our office and it inspires me to do many more portraits.
6. Do you feel supported in expressing your talent at the company? 
I feel very much supported in expressing my talent at this company. The fact that they trust me in painting the walls is already amazing. Also, everytime when someone visits our floor the account managers show them the artworks I made. That is super cool!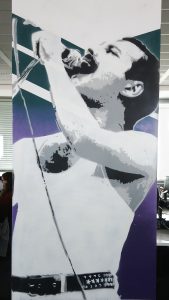 7. What motivates you to come to work every day?
The colleagues I work with and my team! They're simply amazing 🙂
8. Tell us about the Spotify project.
The Spotify project is a very nice place to work. We support Spotify customers that have questions about the app, or their subscriptions.
In our project we do this by email, chat or social media. No phone support, which makes the project a very relaxed environment 🙂 It's a creative place, we play music on the floor and I work with amazing people.
9. Tell us a surprising fact about your job that others might not know?
I'm a big Spotify fan myself and I listen to music all the time (also during work). In 2018 I listened 86,347 minutes of music on Spotify. I listened for 55 hours to my favorite band Iron Maiden!
10. Give us 3 good qualities of your colleagues.
They are: Cool. Cooler. Coolest!