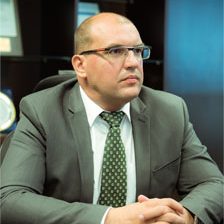 Dimitar is our Country Manager for Bulgaria. His major function is to ensure service excellence for all client engagements in the country and develop an organization that is ready to handle further business growth. A key part of his role is to establish and maintain strong relationships among the functional teams and keep them aligned and focused on achieving superior productivity, high customer satisfaction, team engagement and people development, continuous improvement, top level quality and compliance. Dimitar ensures that all of our team members are led by example, share our values and always put the customers first. When he takes a rest from making the world a better place, Dimitar enjoys his family, the nature and the high speed.
I am surrounded with smart and resourceful people who live the entrepreneurial spirit and strive for excellence in all levels.
The company:
We keep close partnerships with our customers and put a special focus on adding value to their business. We deliver services for leading companies that gives us insight into their business models, processes, tools, and development strategies. The variety of industries we operate in gives us exposure to cutting edge technologies and access to know-how from best in class companies. Combine all this and it gives you the formula of how we grow together.
There is open and honest communication and strong collaboration within the organization – a great achievement for such a large corporation.
The inspiration:
The atmosphere in the office is great. We are exposed to different cultures, a colorful mix of industries, clients, and the services we deliver, which makes each day a unique experience. The variety of business situations that I face and handle every day develop me and teach me new skills and competencies.
The people:
We are looking for people with advanced verbal and written skills in European languages, English is a must. The candidates should also demonstrate an interest in the field they will be working in (technology, retail, hospitality, travel, financial services, etc.). Experience is a plus but is usually not required – we have a robust process of training, onboarding, supporting, and developing the newcomers through their journey with Sutherland. There are incredible opportunities for learning and development.
Our value proposition for all our employees has more than 40 elements and we do not stop adding more. In addition to the common package, we provide a wide range of unique rewards and recognitions, various discounts and bonuses sponsored by our customers, great internal and international career opportunities, perfect office locations and working conditions, and a chance to work for many of the "Fortune 500" companies.
The future:
Our team in Bulgaria has significantly increased over the years. We deliver services to 17 clients and keep on adding more at a rapid pace. We do plan expansion from growing further our existing clients and attracting new ones over the years ahead. We want to add new industries, business models, and portfolio of services.
OOO:
I love to spend my free time with my family and friends – riding bikes, going for a picnic during the weekends, traveling across the country, and having fun. Once a week I go out and party with friends, current and ex-colleagues, business partners – this is how I keep my relationships, have fun, and discover the night life of Sofia. I am motor-biking and snowboarding as well – my two passions for the different times of the year.