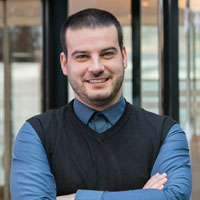 It is incredible how much do you learn in this company. Sometimes I think the world spins three times faster when you are at the office. You learn and collect experience with much higher speed.
The Story
My Sutherland journey started in 2013 when I joined one of the newly launched projects. Last month I reached my fourth-year milestone, which also marks the number of times that I have been internally promoted. First, I was appointed at the Subject Matter Expert position where I supported my colleagues in their work and handled the high priority cases. At later stage I was promoted to a Team Manager of one of the biggest teams in our office in Sofia. At the end of 2014 we opened our office in Burgas, whereby I spent almost a year as Implementation Manager. The coastal city impressed me on many levels, but at most with its high number of talented people, who were able to raise the bar on a whole new level, while having a lot of fun doing it.  At the end of 2015 I was promoted to my current position of Senior Team Manager and I'm responsible for all operation processes of one of our projects in our main site in Sofia.
Bulgaria:
Staying in Bulgaria or developing and living in a foreign country was never a question for me. I went to the Cologne University in Germany to get my degree in Business Administration, but since day one I knew what my goals are: to improve my language skills, gain experience, finish a high-quality education and then return to my home country to pursue a career path. Now when I look back at the time I spent in Germany, I realize that it helped me develop enormously not only education wise, but also as a person. It made me resilient to any difficult situations, improved my communication skills and greatly positively influenced the way I see the situation in Bulgaria.
The People
The first thing that caught my attention when I started in Sutherland was my colleagues! I was completely amazed how many highly qualified people I was surrounded by. Those employees stimulated by the high incentive programs, the various team building activities and all people centric policies often achieve incredible results and create history. The company values this talent pool and endorse internal promotion policies. At my project, all of the 60 support staff members have developed within the company.
The Inspiration
Everyone has his motivations. Most of mine are related to the team I work with. As a manager, you have to know your team, their interests, strengths, weaknesses and what drives them towards success. Finding the right ingredients and watching how your team develops over time, is one of my biggest inspiration factors.
Since learning and developing is one of my key priorities, at this stage the contribution of my managers and especially the leadership of my immediate one were and are highly appreciated. Based on the guidance until this moment I have developed high variety of skills, which are hard to learn otherwise.