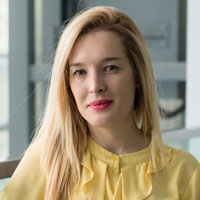 Some will call it passion, I call it love. Loving yourself and knowing what makes you happy, will equip you with the vision and the skills required to follow your dreams.
The story:
It's a long story. I was just back from my very long stay in Germany and had already one year of BPO experience at another company in Sofia as I was looking for an opportunity to move to Burgas. During my vacation at home, in the summer of 2014, I saw a job ad by Sutherland looking to hire German-speaking consultants in Burgas. I knew this would mean to me to start from scratch, but I took the challenge. I started as a consultant a few weeks later but moved quickly to the position of Subject Matter Expert. After just a little while I was promoted to a Team Manager and at this point, I realized that a dream is coming true. The interaction with the people is what I love the most in my job. Then, because of my passion for challenges, six months later I was offered to take over the Leadership of the Quality team. Quality was something completely new for me at that time, but it seemed so interesting as an opportunity to learn something new and see things from different or better said – combined perspectives. I didn't know what to expect. After all, the client communication, the wonderful team, and the quality work itself made me grow. I spent one year working in this position and learned things for a lifetime.
From February 2017 till the end of April 2018, I was leading the team in Burgas as a Senior Team Manager. This experience helped me to develop my skills in decision making, delegating, taking more responsibilities, sharing, communicating. It helped me also understand better "the big picture".
Kosovo:
The highlight of my journey with Sutherland is marked by the takeover of the Lead of our Kosovo team in Pristina. It was in May 2018, as I first traveled to Pristina to support the team in Recruiting. As Account Manager, my role was to coordinate the different stakeholders in the process, to attend interviews and observe the process, as well as to support the initiatives to increase our pool of candidates.
The spirit of the team fascinated mе immediately – the warm welcome, the friendly young people, their motivation and eagerness to learn made me fall in love with their culture. After every month I spent there, I was convinced that I am ready to face new challenges along leading the team to success. My inner motivational engine is developing others by sharing knowledge, challenging them to get out of their comfort zone, building trust and integrity. In Pristina, I have had exactly this opportunity – to work with motivated young leaders and create together a respectful, colorful, and success-oriented environment to work. We refer to ourselves as a family with a unique mixed culture shaped by each person's mindset, corporate culture, and our multinational experience.
On the professional part, I have learned that tolerance is a big term in leadership skills. Being tolerant and understanding others' needs is essential to working together toward success, especially in cross-functional relationships.  It helps in negotiations and pursuing the company's mission.
And…, I am still learning. I am asking myself the question "What came first – the chicken or the egg?", but in the leadership aspect – is a leader born or made? My answer at this moment is both – it requires innate characteristics like the willingness to learn and endurance, but at the same time what one gains as experience and skills along the way, is priceless and could be different to anyone.
The inspiration:
Some may call it passion; I call it love. Loving yourself and knowing what makes you happy will equip you with the vision and the skills needed to follow your dreams.
Working with professionals who share the same vision makes me feel at the right place, with the right people doing the right things, and this gives me an extra boost of inspiration. Each day I learn something new – about the business, about the people, and about myself. I'm very happy to be a part of a unique team with highly motivated, engaged, and colorful personalities who know how to have fun while doing their best at work. At Sutherland, I feel at home.
The future
The future is what we do and think today because it is shaping our tomorrow. This is always on my mind when I'm setting both my daily goals and long-term vision.
As a part of a fast-growing team, I have to make decisions quickly, deal with any kind of situation, and coordinate with diverse parties. Keeping the balance between the long-term vision, which is being the best partner for our business clients, and the daily dynamic, which requires a high level of flexibility in decision making, is the key to the success of tomorrow, but the job of today.