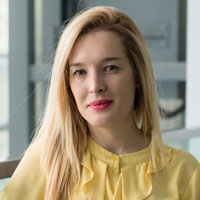 Some will call it passion, I call it love. Loving yourself and knowing what makes you happy, will equip you with the vision and the skills required to follow your dreams.
The Story
It's a long story. I was just back from my very long stay in Germany (I've spent there 11 years) and had already one year of BPO experience at another company in Sofia as I was looking for opportunity to move to Burgas. My family was waiting for me. Then, in the summer of 2014, there was a job ad by Sutherland hiring consultants speaking German in Burgas. I knew this would mean for me to start from scratch, but I took the challenge. I started as an agent, but moved quickly to Subject Matter Expert. After just a little while I was promoted to a Team Manager and at this point I realized that a dream is coming true. The interaction with the people is what I love most in my job. Then, because of my passion for challenges, six months later I was offered to take over the leadership of the Quality team. Quality was something completely new for me but it seemed so interesting. I didn't know what to expect. After all, the client communication, the wonderful team and the quality work itself made me grow. I spent one year on this position and learned things for a lifetime.
Since February 2017, I'm leading the team in Burgas as a Senior Team Manager. My motivation is to know I can share my knowledge and develop people, and this is developing me.  When I look back it wasn't easy, but it was a journey full of experience and it still is.
The Inspiration
Some will call it passion, I call it love. Loving yourself and knowing what makes you happy will equip you with the vision and the skills needed to follow your dreams.
Working with professionals who share the same vision makes me feel at the right place, with the right people doing the right things, and this gives me an extra boost of inspiration. Each day I learn something new – about the business, about the people and about myself. I'm very happy to be a part of a unique team with highly motivated, engaged and colorful personalities who know how to have fun while doing their best at work. At Sutherland, I feel at home.
The Future
The future is what we do and think today, because it is shaping our tomorrow. This is always on my mind when I'm setting both my daily goals and long-term vision.
As a part of a fast-growing team I have to take decisions quickly, deal with any kind of situations and coordinate with diverse parties. Keeping the balance between the long-term vision, which is being the best partner for our business clients, and the daily dynamic, which requires high level of flexibility in decision making, is the key for the success of tomorrow, but the job of today.
OOO
When I'm out of office, I love to spend time with my family and friends. It looks like I've made my coworkers friends as well. I also enjoy doing sports and yoga. But being in the nature, is something that gives me the sense of spiritual relaxation. I love reading and listening to music. Last but, not least, I have passion for travelling because it simply combines all my passions in life. My favorite quote is "East, west, south, or north makes little difference. No matter what your destination is, just be sure to make every journey a journey within."