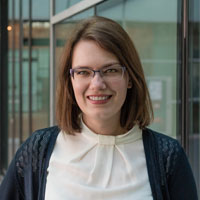 I am very proud of all people in my team and I am sure that we will achieve even greater things together.
The story:
My Sutherland story started in a very trivial way. I wanted to practice my language skills and to work in a multicultural environment, so I did my research and found out that Sutherland is a company that provides both. I applied and got the job.
To be honest, I've had some prejudice about what working for a BPO was like. However, to my utmost surprise, the reality was completely different from what I expected. So here I am today, already 6 years in the company, and still counting.
The growth:
I started my career at Sutherland in October 2014, as an adviser in the first wave of the Spotify program. Six months later I've been promoted to a Subject Matter Expert, and after three more – to a Team Manager. Two years after that I've become the Account Manager of the Spotify program in Sofia.
My professional development may look like something taken out of a textbook, or something exceptional, however, there are many people like me at Sutherland. I can open-heartedly say that the company is amazing at fostering talent and developing future leaders.
The inspiration:
I do get inspired when I see people who are working hard in order to achieve a certain goal. It doesn't matter what the goal is – you may want to reach a target, grow professionally, or expand the business.
At the Spotify program, we have achieved so many things for such a short period of time, and we are still striving for more. We've grown from 16 to more than 250 people and hopefully, we will expand even more. For me, the main inspiration comes from our constant desire to become better and better.
The people:
The people (and especially those in my team) are the reason why I come to work with a smile every day. They are exceptional, fun-loving, active, and vocal. I strongly believe that the Spotify program is as successful as it is today because of all those hardworking and motivated colleagues who have built an amazing hive of knowledge and positivity.