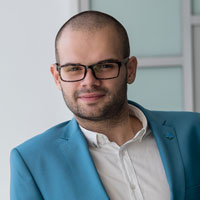 I'm inspired to give my best as I feel satisfied when I see the result of my hard work at the end of the day.
I joined the company on August 2, 2014, as a consultant. At first, the technical requirements for the position seemed difficult to me, but when a person is motivated to learn new things, there are no obstacles to achieve what he/she wants.
My career achievements have proven this. A few months after joining the company, I was promoted to  "Quality Specialist", and after another nine months, I was leading the team in which I started my career. For the last six years, I have been in several positions: "Employee Engagement Manager", "Operations Manager", and I am currently "Digitalization and Transformation Manager".
The Skills:
For the past 6 years, the company has given me the freedom and trust to implement various best practices from the world's largest innovators in the field of digitalization, people management, and leadership. I had the opportunity to go through different positions, which undoubtedly developed many of my skills in different fields. When I look back, I am most proud of the success of the people who were part of my team.
The company:
Dynamic
Energetic
Colorful
In my opinion, these three words describe Sutherland. Dynamic – because every day here is different from the previous one, as long as you can see it and appreciate it. Energetic – because life is so vigorous here. Colorful – because everyone is welcome here as they are.
The People:
Cool – that's how I would describe my colleagues. I have the opportunity to work with people at all levels, every day, and even if we argue we know that the truth is born in the dispute. And when we have fun, we do it really stunning, because we're not just having a party, but a real show, just as diverse as our daily lives.