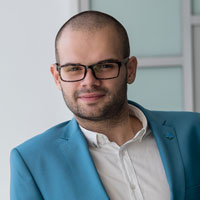 I'm inspired to give my best as I feel satisfied when I see the result of my hard work at the end of the day.
The Story
I joined the company back in 2014 as a Level 3 Tech Support Consultant. Before accepting that offer, I rejected 3 other offers from Sutherland and I don't regret it. I took the best decision for my career and I joined a program I like and which helped me further develop my skills. Initially the technical support requirements were a bit frightening, but if you are motivated to learn something new, there's no way back, no option to give up. And my career achievements proved it. I became a Quality Assurance Lead 9 months later and a Team Manager after another 9 months. A fast career growth, isn't it?
The Skills
The most important skills I developed at Sutherland are to be consistent in the decisions I am taking and to measure twice, cut once. As a young people manager, it is sometimes difficult to keep your emotions and to find the most adequate and appropriate approach in difficult situations. Two years on this position helped me to further develop these skills and helped me take decisions without being influenced by any emotions, no matter positive or negative. To predict the eventual circumstances before they even happen and prevent them.
The Company
Sutherland and my immediate managers gave me the chance to prove my managerial competences, management skills and people approach. I do believe they don't regret their decision. At the same time, my job allows me to combine many activities in the company and to participate in different projects, which make me feel accomplished.
The People
I am currently leading a middle size team and I really enjoy working with my team members. I was able to create a team of professionals, who are really self-accountable and don't even need me to control them. As a Team Manager, I believe my main goal is to set up everything in such a way that even when I am not at the office, everything is going smoothly.