Located within the south-eastern tip of Europe, neighboring Romania to the north and Greece and Turkey to the south, you have a land steeped with history, swooping mountain ranges and costal paradises. In the past few decades, Bulgaria has developed into a leading tourist destination for both summer sun seekers and alpine winter sports enthusiasts. The Bulgarian countryside is beautiful and unspoiled. The wines and food are excellent and if you want some culture, there are plenty of monasteries hidden in the mountains where you can hide away from the dynamics of the city and reflect on life. Alongside its tourist attractions, Bulgaria is transforming into one of the digital and technological capitals of Europe, with no signs of slowing down. With a culture that has foundations built on strong social connection, this makes relocating to Bulgaria easy for non-natives making it their home away from home. It is no surprise why so many people are relocating to Bulgaria.
WHY BULGARIA
.
Close proximity to major European hubs
Political stability
Income tax is 10%
Excellent climate, rich history, diverse culture and hospitality
EU member since 2007
Bulgarian cuisine
Friendly people
Cost of living
Sofia is Bulgaria's capital and its largest city. Founded thousands of years ago, today the city continues to develop as the country's cultural and economic center. At present, the city has a population of 1,250,000. Sofia continues to develop and has turned into the preferred destination for the world's leading companies in the BPO industry. The city has a large percentage of multilingual speakers and attracts people from far and wide to work in the BPO sector. In 2015 Sutherland announced a 10 million Euro investment in its Bulgaria operation to create 3,000 jobs in the country over the coming years showing the importance and opportunity that Bulgaria has to offer.
Sofia is located in the western part of the country, located on the lower slopes of Mountain Vitosha. The city's altitude is 550 meters above sea level, the climate is moderate and continental, characterized by cold winters and relatively warm summers. With the city being conveniently located on the foot of Vitosha mountain this gives people of Sofia great access to the mountains ski slopes in the winter. Having Borovets and Bankso ski resorts within an hour and half drive from the capital makes for some great skiing options.
The city of Sofia is at the crossroads of south-eastern Europe giving its residents great accessibility within a short drive to some of Europe's most historic cities.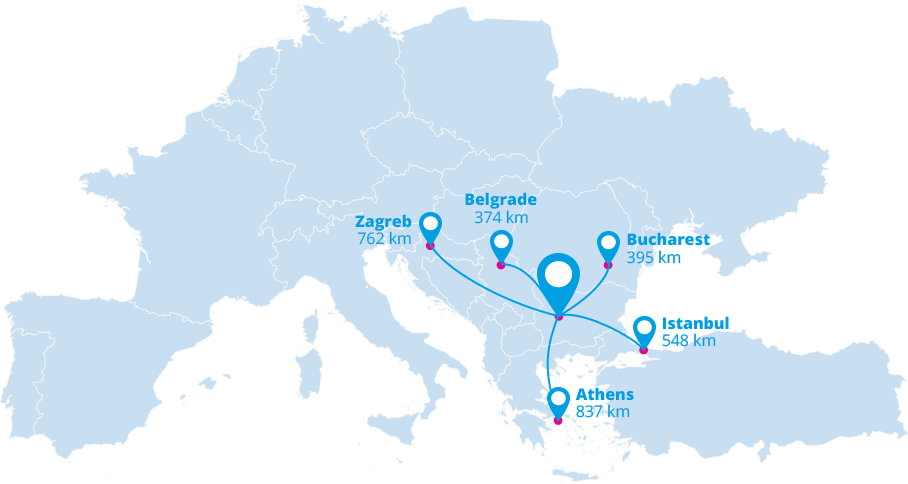 WHY SOFIA
.
Sofia is the greenest capital in Europe boasting two large parks
Sofia is one of the most affordable cities in the EU
Nature reserve and skiing on mount Vitosha – 15 minutes away
Diverse scenes for every type of person
Developing city
Good transport links
Sporting events
Burgas is the fourth largest city in Bulgaria, situated in the south-eastern part of the country, right on the Black sea coast. The climate is primarily continental with a distinct impact from the Black Sea meaning it stays hotter all year around compared to the western part of the country. The Port of Burgas is the biggest sea port in the country and the Burgas Airport is the second largest airport where most of the international flights caring tourists are landing. Despite its location on the seaside, the city is not famous as a beach resort, but more as a turning point to the southern resorts like Sunny Beach, Pomorie, Sozopol, Sinemorec, Elenite, Dyuni, etc which are all closely located. If you enjoy local seafood set on a beautiful coastline Burgas will be the perfect place for you.
Burgas is an important industrial center in Bulgaria, and the city also invests considerable resources in tourism. In the past couple of years it has been voted several times as the best city in Bulgaria to live in. What attracts people here is mostly the sea. But the municipality supports multiple art and culture venues. After opening our office in 2014 we have seen Sutherland grow in the city and become one of the largest employers in the area. Our presence and reputation in the city is paramount.
WHY BURGAS
.
Living on the seacoast
Benefit from warmer weather
Cost of living is less compared to Sofia
Close to seaside tourist resorts
The city of Varna is situated in the North-Eastern part of Bulgaria on the Black Sea shore which is why it enjoys a mild climate throughout the year. Varna is the third largest city in Bulgaria and the largest one on the Black Sea shore with population of about 330 000 people. Because of its historical, economic and cultural significance it is often called the Sea Capital of Bulgaria. Along with that it is on the crossroad between the Middle East and Western Europe. Nowadays Varna is the main port for both naval and commercial shipping and, adjacent as it is to the coastal resorts of St. St. Constantine and Helena, Golden Sands and Albena, it has a cosmopolitan atmosphere.
The city`s peculiar sea charm is sublime and moving. Ancient, medieval, renaissance and modern cultures mingle and coexist in the city. In Varna you can see original artefacts of the oldest gold treasure in the world, dated between 4400 – 4200 BC. Of the rich natural resources two are a must-see: The Marine Gardens, which are the largest in the Balkans and Euxinograd, the former Royal Palace. Varna is a city of old culture, living traditions and ambitious undertakings. Some 20% of its population are students. Varna has an impressive nightlife, especially during the summer season and many say that "the city never sleeps".
WHY VARNA
.
One of the most famous resort centers in Europe
Folklore, film and theater festivals
Dynamic nightlife
Close to sea resorts
TIME ZONES
.
Time zones from Bulgaria (Bulgaria is ahead) are as follows:
US East coast – 7 hours
US West coast – 10 hours
UK – 2 hours
CET – 1 hour
CURRENCY
.
Bulgarian currency is called Lev (BGN), Plural Leva, abbreviated as lv.
There are 100 stotinki (Cents) in one lev.
Coins are in denominations of 10, 20, 50 stotinki, 1 and 2 levs.
Notes are in denominations of 2, 5, 10, 20, 50, and 100 levs.

YES
NO
MAYBE
PLEASE!
THANK YOU!
I`M SORRY!
LET'S GO!
GOOD MORNING!
GOOD DAY!
GOOD EVENING!
GOOD NIGHT!
GOOD BYE!
HI!
HOW ARE YOU?
MY NAME IS…
THE BILL, PLEASE!

DA
NE
MOZHE BI
MOLYA / AKO OBICHATE
BLAGODARYA / MERCI
IZVINYAVAI / IZVINETE
HAIDE!
DOBRO UTRO!
DOBUR DEN!
DOBUR VECHER!
LEKA NOSHT!
DOVIZHDANE!
ZDRAVEI! / ZDRAVEITE! / ZDRASTI!
KAK STE / SI?
AZ SE KAZVAM…
SMETKATA, MOLYA!
Average Prices in Bulgaria
.
Rent Per Month
.
| Type | Average | Range |
| --- | --- | --- |
| Apartment (1 bedroom) in City Centre | 472.99 BGN | 300.00 – 600.00 |
Transportation
.
| Type | Average | Range |
| --- | --- | --- |
| One-way Ticket (Local Transport) | 1.60 BGN | 1.60 – 1.60 |
| Monthly Pass (Regular Price) | 30.00 BGN | 30.00 – 50.00 |
| Taxi Start (Normal Tariff) | 0.80 BGN | 0.70 – 1.00 |
| Taxi 1 mile (Normal Tariff) | 1.27 BGN | 1.13 – 1.43 |
Sports And Leisure
.
| Type | Average | Range |
| --- | --- | --- |
| Fitness Club, Monthly Fee for 1 Adult | 41.99 BGN | 30.00 – 50.00 |
| Cinema, International Release, 1 Seat | 10.00 BGN | |
Restaurants
.
| Type | Average | Range |
| --- | --- | --- |
| Meal, Inexpensive Restaurant | 10.00 BGN | 7.00 – 14.00 |
| Meal for 2 People, Mid-range Restaurant, Three-course | 40.00 BGN | 30.00 – 50.00 |
| Domestic Beer (1 pint draught) | 2.00 BGN | 2.00 – 3.50 |
| Imported Beer (11.2 oz small bottle) | 2.00 BGN | 2.00 – 3.50 |
| Cappuccino (regular) | 1.94 BGN | 1.50 – 2.50 |
| Coke/Pepsi (11.2 oz small bottle) | 1.52 BGN | 1.00 – 2.00 |
| Water (11.2 oz small bottle) | 0.91 BGN | 0.60 – 1.50 |