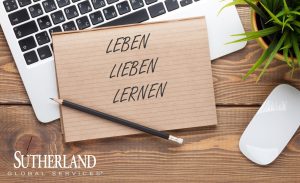 Burgas Municipality, Sutherland Global Services and Business Incubator Burgas are starting  an IT Academy taught in German.
This is а part of the municipality's endeavor to support the education of its young IT experts. On the other hand Sutherland Global Services continues the commitment undertaken during the celebrations for its second birthday in Burgas – to deliver with training programs that will improve the quality of the staff and the labor market in the city.
The content of the panels is diverse, but is entirely aimed at improving the IT-skills of the candidates. Here are some of the main topics that will be covered during the course:
– Fundamentals of design, construction and publication of web sites;
– Getting Started in HTML;
– E-Commerce – eCommerce;
– CMS – content management system;
The Academy will take place between 3 – 14 October, from 18:30 to 21:00 in the building of the Business Incubator – Burgas. The first group starts on 3rd October.
Please find below details for the schedule:
Group 1 – Mon (03 Oct) Wed (5 Oct), Tue (11 Oct) and Thur(13 Oct)
Group 2 – Tue (4 Oct) Thur (06 Oct) Wed (12 Oct) and Fr (14 Oct)
Please be aware that Group 2 will be formed only if we fill Group 1 and have further interest.
The candidates need to be at least 16 years old and have B1 or higher level in German.
If you meet the requirements and would like to enroll – please send your full name, contact phone number and CV to email address – itacademy@business-burgas.com.