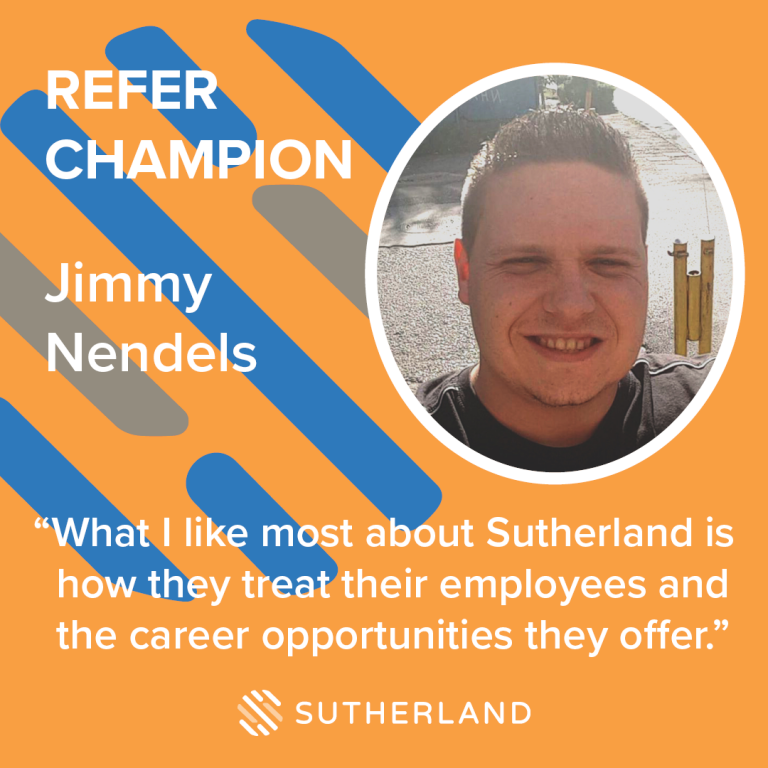 Sutherland is known for opening doors and starting careers. One initiative that has contributed tremendously to this is our outstanding REFER program. Through this program, employees are afforded the opportunity to refer family and friends who they deem capable of contributing to our dynamic team environment. Meet one of our Refer Champions, Jimmy Nendels, who's helping our team grow by referring his friends!
1. How did you react when you found out you were a Refer Champion?
It was a surprise for me as I didn't expect it at all.
2. What qualities do you look for when identifying people to REFER?
I'm looking for people who I think that would fit in the structure of Sutherland and if they are hard working agents. Mostly people I've worked with before.
3. How do you ensure that your referrals complete their applications?
I'm trying to stay in touch with them and try to advise them as much as possible.
4. What do you enjoy most about working at Sutherland?
What I like most about Sutherland is how they treat their employees and the career opportunities they offer. For me the team is also a big plus, nice colleagues and the best environment to work in.
5. What is your best personality trait? What makes you unique?
I think it should be that I always try to stay myself and that I'm not changing this for anyone.
6. What is the best advice you have ever received at work or in life?
I think I got this advice when I started working in Bulgaria. The advise was easy, always remain calm and don't let stress get the best of you.
7. What do you enjoy doing outside of work?
I love playing football, going to the gym and enjoying a drink in the city center with colleagues or friends.
8. If you could have one superpower, what would it be?
It would be fun to fly.