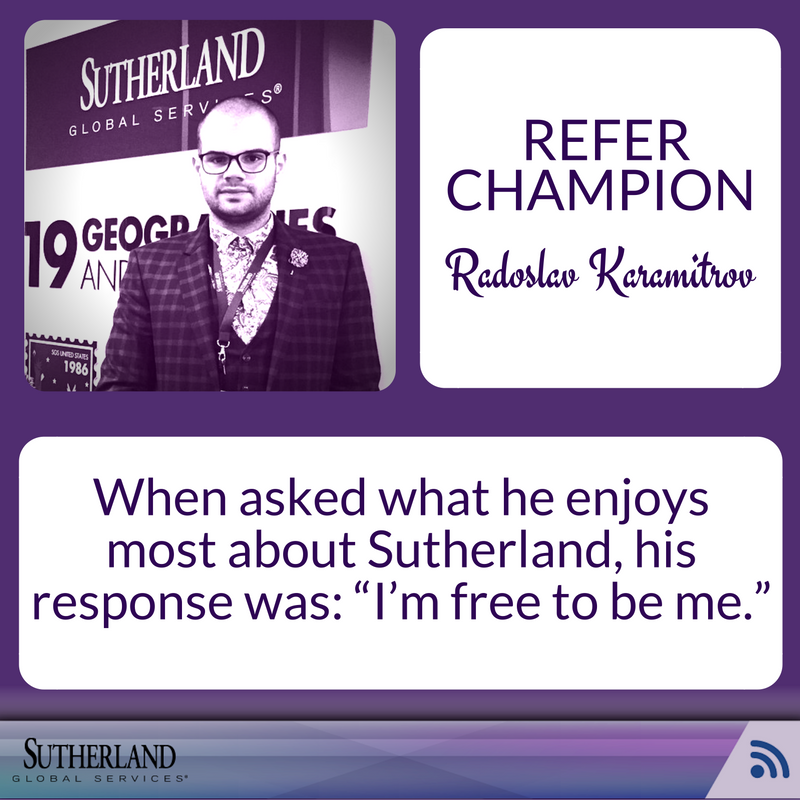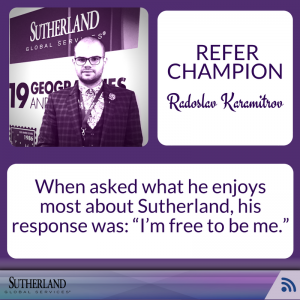 Sutherland Global Services is known for opening doors and starting careers. One initiative that has contributed tremendously to this is our outstanding REFER program. Through this program, employees are afforded the opportunity to refer family and friends who they deem capable of contributing to our dynamic team environment.
How did you react when you found out you were a Refer Champion?
It's always a pleasure to be # 1. It's a recognition for your efforts to become a champion and to be one of the top influencers in the company. Someone who has positive impact on the company and motivates external candidates to become part of our organization.
What qualities do you look for when identifying people to REFER?
First of all, I am looking for the motivation of the people. If someone is not willing to work for us, there is no point to convince him how good we are and what we can offer him. After that comes the knowledge, personal skills and competences. I am trying to be the first sourcing level by identifying person's needs and motivations and then provide him with the information he needs.
How do you ensure that your referrals complete their applications?
In order to make a successful referral, I'm always trying to determine in which program the person would fit best. What are his top values and which account will be able to satisfy those values: from salary to work-life balance, shifts etc. Once I know what the candidate needs, we then need to communicate these conclusions with the Recruitment team and find the most suitable position for the talent.
What do you enjoy most about working at Sutherland?
I'm free to be me.
At Sutherland everyone can share his fresh ideas, try to improve the work environment, our work life and the company. This gives the chance to everyone to accomplish what he needs in order to be satisfied from his work.
What is your best personality trait? What makes you unique?
The desire for perfection. As a person who visualizes everything I like to push things to be perfect as this makes me feel satisfied.
What is the best advice you have ever received at work or in life?
"Има си хора да го мислят" was saying one of my ex-colleagues. I would translate this phrase as "There are people who have to be mindful of the situation." The meaning behind this phrase is that we should always try to achieve new levels in work or life, however, we should not be too pushy if someone on a higher level is not willing to listen to our feedback.
What do you enjoy doing outside of work?
I like horse-riding. This makes me feel happy and free. I like interior design and the final result make me feel satisfied.
If you could have one superpower, what would it be?
The power to change the mindset of people.