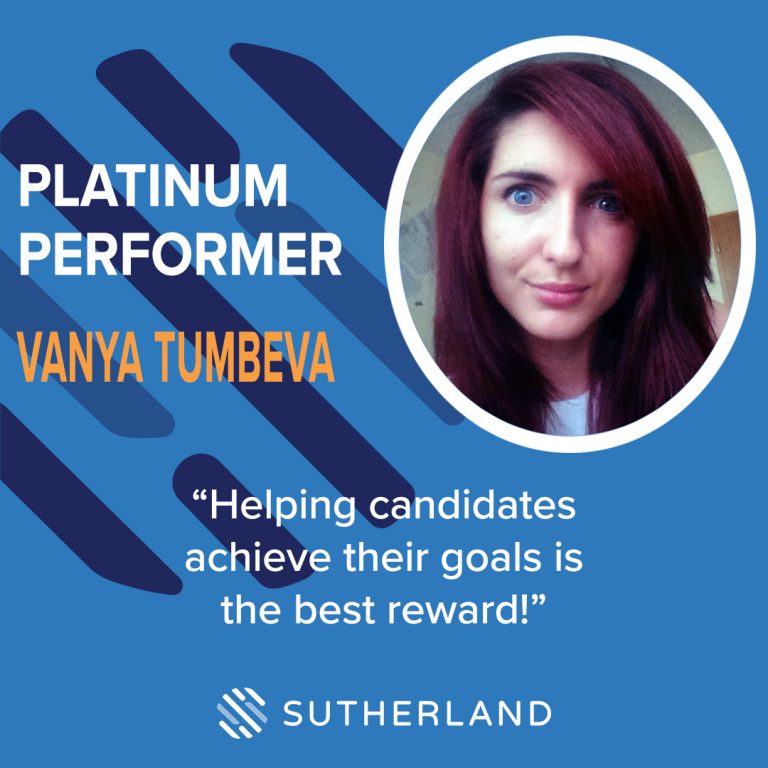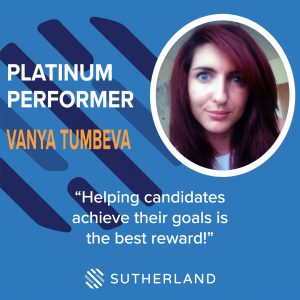 Sutherland has a plethora of incredible people. However, we have many who are willing to go the Extra Mile. In acknowledgment of their efforts, we honor them as a Platinum Performer. Meet Sutherland's latest awardee – Vanya Tumbeva.
1. How and when did you come to Sutherland?
I joined Sutherland in July 2015 freshly graduated from University. It was the only job I applied for and fortunately the right one.
2. What gets you up in the morning? No, not your dog or alarm….but what really drives you to get up and give your best each day?
Being part of the Talent Acquisition team, we are the face of the company and I know we are responsible for finding the right job for anyone who applies at Sutherland. Working with people, following their stories and putting myself in their shoes in order to understand their career preferences is what gets me going each day. There is no better reward than a happy candidate whom you've helped achieve his goals.
3. Which country that Sutherland operates in would you most like to visit and why?
I would be happy to visit our colleagues in Morocco. It has been in my wish list for desired destinations for a while and combining work with pleasure would be best.
4. What's the best advice you've ever received at work or in life?
Always keep your heart in what you do and be passionate about it.
5. What are you looking forward to the most in 2017?
Our new clients, our growth and staring my Master`s degree would be the thing I look forward to.
6. What three words best describe you?
Positive, determined, redhead. 🙂
7. What are your favorite snacks or food to bring to work?
Coffee,coffee,coffee…