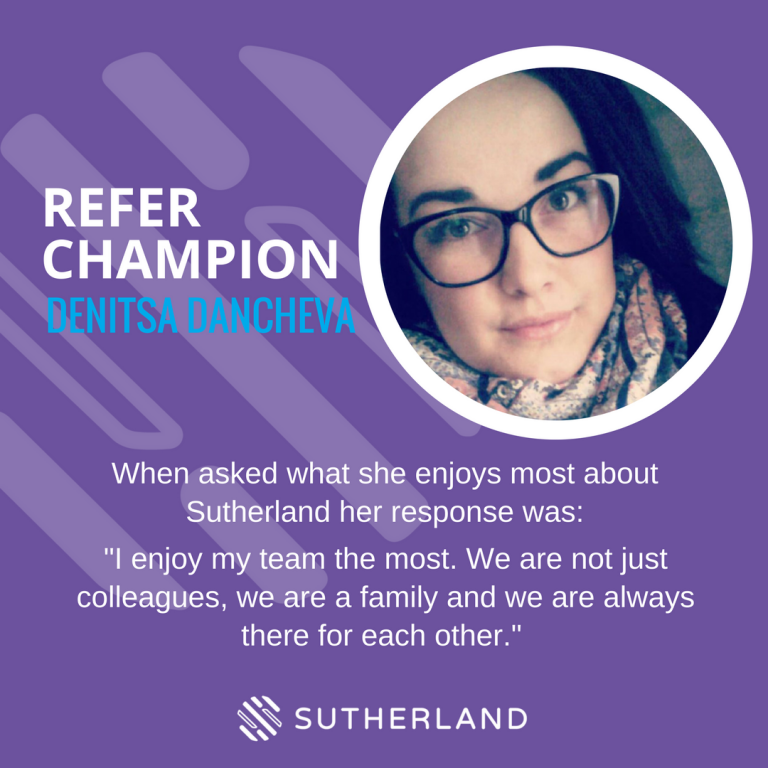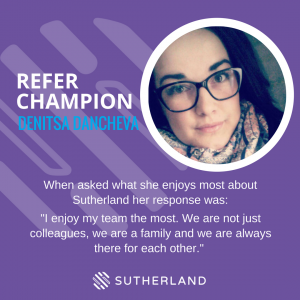 Sutherland is known for opening doors and starting careers. One initiative that has contributed tremendously to this is our outstanding REFER program. Through this program, employees are afforded the opportunity to refer family and friends who they deem capable of contributing to our dynamic team environment.
How did you react when you found out you were a Refer Champion?
Well, I was really surprised! I refer my friends, but I have never expected that I will become a Refer Champion.
What qualities do you look for when identifying people to REFER?
The most important quality I look for is team play and responsibility. I think that those are crucial qualities if you want to be successful and to have a good team behind your back.
How do you ensure that your referrals complete their applications?
I think that the way to be sure that my referrals complete their applications is to follow up with them. I am always trying stay connected with my referrals and to be informed about their hiring process.
What do you enjoy most about working at Sutherland?
I enjoy my team the most. I have never expected that I will work in such a team. We are not just colleagues we are a family and we are always there for each other.
What is your best personality trait? What makes you unique? 
I think that I can't reply to this question, you can ask some of my colleagues 🙂 But I think that my smile and my positivism at the office make me special.
What is the best advice you have ever received at work or in life? 
The most important advice in my life I've received from my father. He advised me to always be myself and not to be afraid to express my opinion.
What do you enjoy doing outside of work? 
What I enjoy the most are the walks and the time spent with my friends and family. I also enjoy dancing traditional Bulgarian folklore dances. 🙂
If you could have one superpower, what would it be?
It will be great if I'm able to read the minds of the people around me. This will save me a lot of drama and misunderstandings, but at the same time it might hurt.