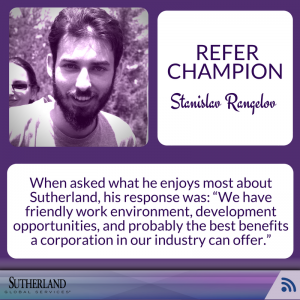 Sutherland Global Services is known for opening doors and starting careers. One initiative that has contributed tremendously to this is our outstanding REFER program. Through this program, employees are afforded the opportunity to refer family and friends who they deem capable of contributing to our dynamic team environment.
How did you react when you found out you were a Refer Champion?
I was quite surprised. I do refer my friends, however, I certainly did not expect to be nominated as a refer champion.
What qualities do you look for when identifying people to REFER?
Mainly responsibility. Generally, I also try to take into consideration the persons' character and whether or not they would feel good in the specific project.
How do you ensure that your referrals complete their applications?
Well, as far as I know there is just one way to go about that – follow up. I strive to always contact people that I have referred.
What do you enjoy most about working at Sutherland?
Sutherland is a nice place in general – we have friendly work environment, development opportunities, and probably the best benefits a corporation in our industry can offer.
What is your best personality trait? What makes you unique?
Well, that is something others should answer 🙂 . If I had to speculate, I would probably say it is intolerance to injustice.
What is the best advice you have ever received at work or in life?
Well that is a tough one. If I have to pick just one, it would be that we have to be mindful of our time. Time is something we actually spend when we buy things (represented by the money we have, earned by investing X amount of time). And since time is in all actuality life, we spend small bits of life. Derived from that is the advice to be mindful how much time we invest, what we invest it in and how much of it we spend.
What do you enjoy doing outside of work?
The outdoors. We spend most of our time in cities and offices with comforts and technology and it is really easy to forget what nature even is. For me at least, traveling and the outdoors is an escape that is most needed. And after all, once you hear the deafening silence of a forest you can't forget it. One can be surprised how much nature (of which we are part of) has to tell us – we just need to listen.
If you could have one superpower, what would it be?
Superpowers we all have plenty. But to answer the question 🙂 – being able to clone myself in order to have multiple, independently functioning alternative clones with a single consciousness for all of them.