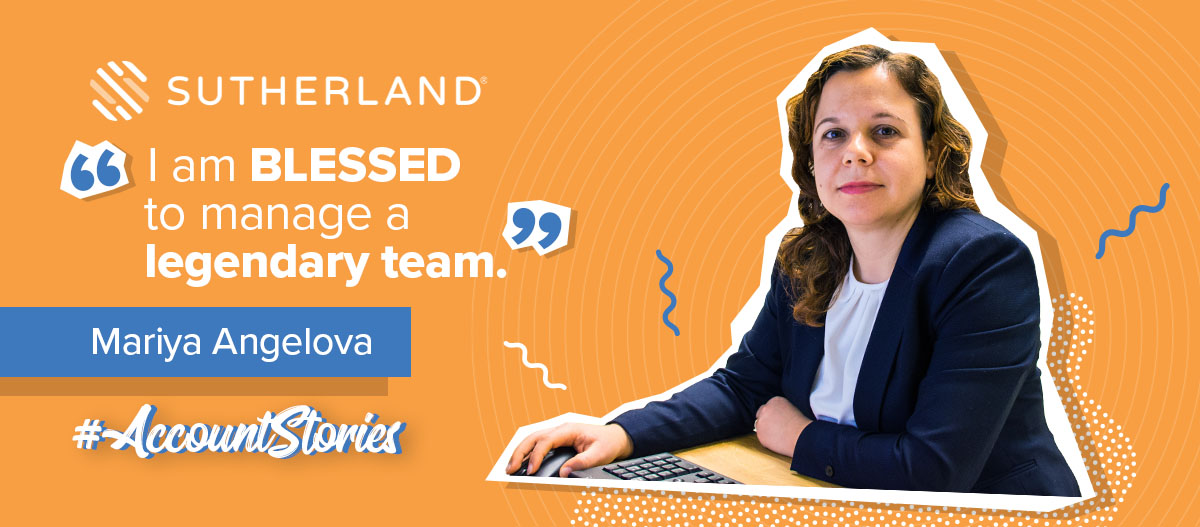 Meet Mariya Angelova, Account Manager of one of our programs in Varna. Today she shares with us some first-hand experience on how our teams make a real impact on the business of our clients.
A #SutherlandSrong manager for over 2.5 years Mariya loves the multicultural environment here, the flexibility of the work-at-home model because it allows her to spend time with her kids now more than ever and finds rewarding every challenge.
With folks from Peru, France, Belgium, The Netherlands, Germany, England, and Bulgaria her own team is quite international, too. They support in 7 languages the customers of a global provider of e-commerce services, hosting the online stores on behalf of clients worldwide. Although currently working from home her team feels connected and constantly in touch with each other. "There is One Team mindset which makes me confident in what I am doing as I know I will be supported when needed.", adds Mariya.
In her busy day of leading the team, communicating with the client, analyzing the account performance, launching new platforms, and many more tasks, we took a few minutes of her time to ask her the question of how her team makes a difference to the business of the client they support.  She shared two interesting cases with us.
Decreasing Average Handling Time and Response Time by 50%
"One of the latest projects we worked on, was related to implementing a contemporary omnichannel software. The business need was to combine all channels we service into one user-friendly and automated program with real-time visibility on all lines of business and detailed reporting.
The migration to this new program, called Sutherland Connect, improved all performance metrics. The Response Time and Average Handling Time on both channels we service dropped by 50% as the full history of the cases are now stored under one tool and it is very easy for our consultants to navigate. This way the team handles a higher volume of contacts than before. Our customers now have the option to rate each contact which contributes further to the excellence in the customer service we provide.
The moment I realized that the launch of this project is successful made me proud as my team and I put a lot of efforts into it for several months to ensure that the IVR recordings in all languages are available and there is a precise mapping of hundreds of phone lines to the correct call flows.  As the project involved the migration of a live channel, it was essential that there is no downtime, and the operations are not affected."  
Improving volume forecasts
"The EMEA team of our project services 7 different languages. On a monthly basis, we receive a forecast from our client about the expected volumes on all channels.  Sometimes the forecast dynamics put us in a situation when we should very quickly staff some of our lines of business. For a certain period, we experienced higher than the forecasted volumes on the Italian phone lines and all our agents with Italian focused on the voice channel. We needed an urgent solution for the Italian emails.
What we offered to our client is to develop a translation tool, so that we easily relocate resources from one to another language queue upon business needs. They considered this as a very good idea as this way we can optimize all our resources and handle all offered volume on both channels we service, voice and email. We performed accuracy tests for Italian, Japanese, and Chinese. The high accuracy rate of over 98% boosted the decision of our client to sign a 2-year contract with Sutherland for that tool. The tool not only adds flexibility to relocate agents from one to another language queue, but it is saving the rush for immediate hiring."
It is all about team culture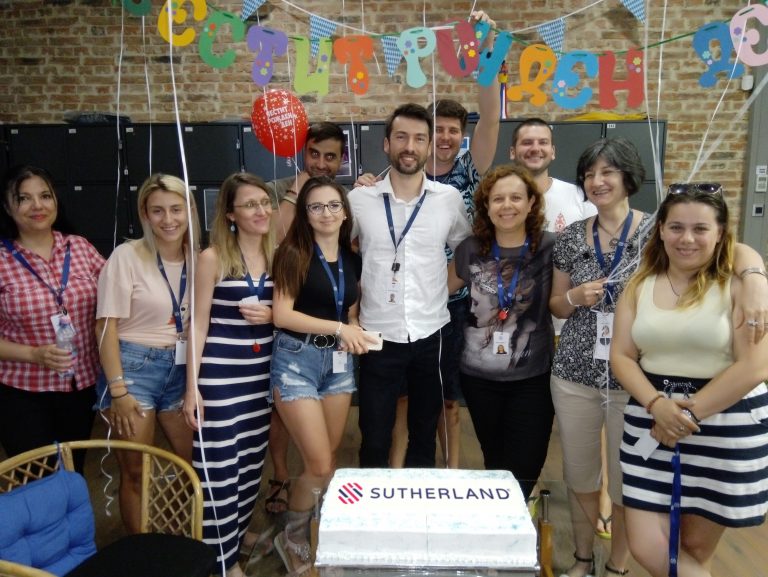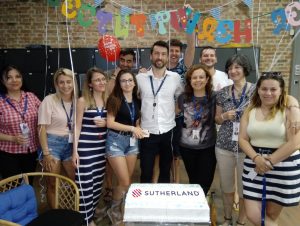 "I am blessed to manage a legendary team. The main reason for the success of our project is the people we work with – very intelligent, eager to learn and develop, passionate individuals. We are ONE ТЕАМ, we all work together and support each other. There is open communication in all directions. We motivate our people to share ideas, concerns, to provide feedback, to ask. We organize regular huddles as well as one-to-one meetings. The agents also use our engagement tool to share whatever they find important.
We also care about the work-life balance of our people; we want them to feel calm and comfortable while at work and be happy while with their families and friends. We all feel Sutherland like home.
Before the pandemic started, we were regularly organizing team events like a night out near the beach, picnics, sports events, winter, and summer parties. We had a tradition to go out together every Friday evening. In the last year because of the social distancing, we primarily focused on online events like monthly town halls, online competitions, photo challenges.  With the start of the summer season and COVID-19 fading away, we plan to restore the team gatherings and parties near the beautiful Varna beaches."
Want to join Mariya's team? Check out our open positions

here.