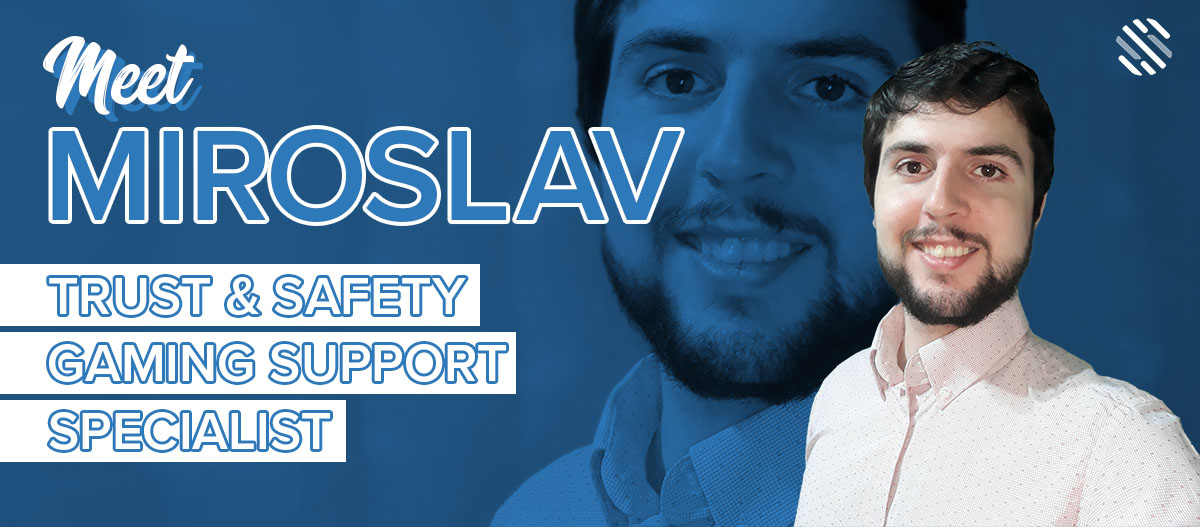 Today with us we have Miroslav, a fresh Sutherlander just 5 month in our program providing support services for a multinational video game and digital entertainment company. Miroslav enjoys the decision-making and risk assessment parts of his job and in this short interview sheds some light on what's like to be Trust and Safety Gaming Support Specialists.
Sutherland:  Hi Miroslav, how would you describe your role?
Miroslav: Our team's main responsibility is to engage in manual fraud review of online orders made by customers. In other words, our focus is to ensure that the information they provide is valid and verifiable, there's always an element of risk which needs to be assessed and we have to take all given data points in consideration before making a final decision whether to accept or reject their order, which most of the time includes processing the weight that each factor has. In addition, we investigate online accounts for fraudulent behavior in an effort to proactively prevent its potential further spread.
S: Tell us about your team culture. 
M: The core set of values of our team includes a high level of collaboration, respect, responsibility, and coherence. We process every order and task with individual attention to detail, we support one another and exchange experience on a daily basis. Each member of the team contributes with something of their own and this results in a simultaneously relaxed and productive atmosphere. Our team leader brings the best out of us and significantly impacts our team spirit in a positive way even during daunting challenges. We still haven't met in person due to the pandemic, but that hasn't stopped us from developing synergy.
S: What do you enjoy most in your role and why?
M: Personally, I enjoy the decision-making and risk assessment parts of our job, because they are directly linked to analytical thinking, along with the investigation tasks, which require us to be constantly on the lookout for data connections and fraud patterns.
S: Share your experience as an employee at Sutherland. 
M: The recruitment process was smooth, my first contact with a representative from the HR department was productive and informative, along with the follow-up interview which led to me joining this project. Our training program was well-constructed and consistent, which gave us a solid foundation from the very start of our work. Overall, I'm genuinely happy to be in this team.
S: What keeps you at Sutherland? 
M: Each member of our team is grateful for the opportunity to work from home in such hard times during the COVID-19 situation. More important than this, we really like what we do and we also share a passion for gaming, music and entertainment.
S: Give advice to someone who would be starting at this role.
M: At the beginning I was a bit concerned if I would meet the different metrics, because there was a lot of new information, and everything seemed harder than it actually was. So first of all, my advice is to be calm, cool and collected, to trust in your ability to learn and improve. In addition to all this, to communicate with your colleagues whenever you feel like you need another point of view before making an important decision.
So, are you up for the challenge? Apply for our open positions
 

here.