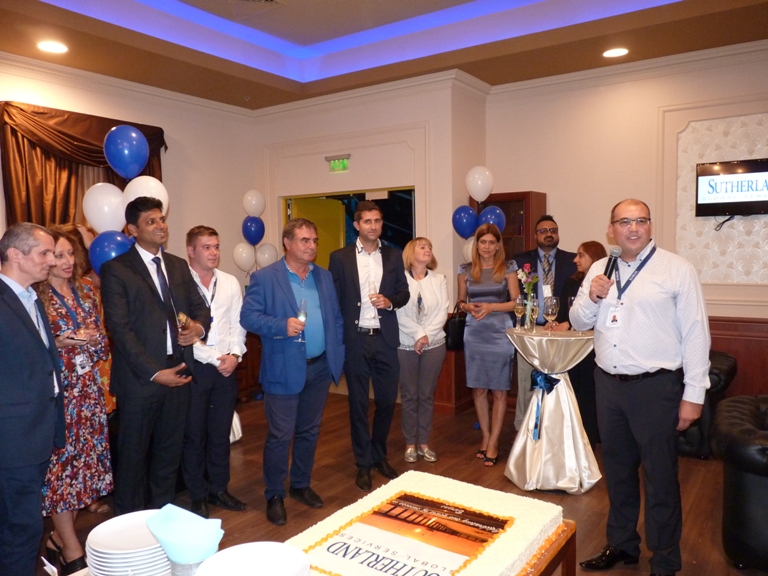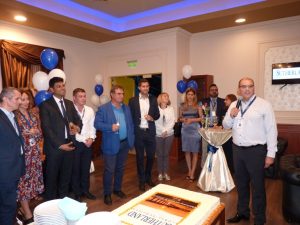 A golden coin with the image of Emperor Constantine I and a Lokomotiv Burgas t-shirt were among the gifts that Sutherland Burgas received for its second anniversary. The anniversary of the company was celebrated in Mall Galleria's VIP Club with a huge cake with the company logo.
"We are very happy that Sutherland chose Burgas for their second home. In our tradition when children celebrate two years we give them a golden coin" said the Deputy Mayor for Budget and Finance Krasimir Stoychev. He handed the coin to the Vice President of the company for ЕМЕА Sean Canning. The event was attended by the director of the Department for Economics and business in the Municipality Ivelina Strateva and president of Loкomotiv Burgas Kostadin Dzhambazov.
The guests were welcomed by the Executive Director for Bulgaria Dimitar Galabov, the Vice President of business operations Satish Ramachandran and new Executive Director of the office in Burgas Alexander Milev.
Sutherland is a company with 30 years of history, operating in 19 countries. It employs around 50,000 people. The company has been in Bulgaria for eight years and has given work to 1,500 employees. Only in Burgas this year their number will be 250 people.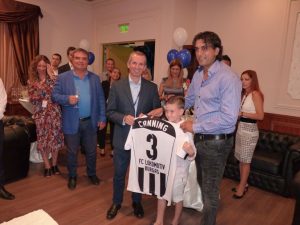 "I would like to congratulate the whole team with the amazing performance and to thank the municipality and the two universities for the assistance," said Sean Canning. He reminded that the company is currently recruiting 100 people with German and is open to anyone who is fluent in the language. As a sign of gratitude for the support to the football team Lokomotiv Burgas, Kostadin Dzhambazov handed Sean a t-shirt with the logo of the club.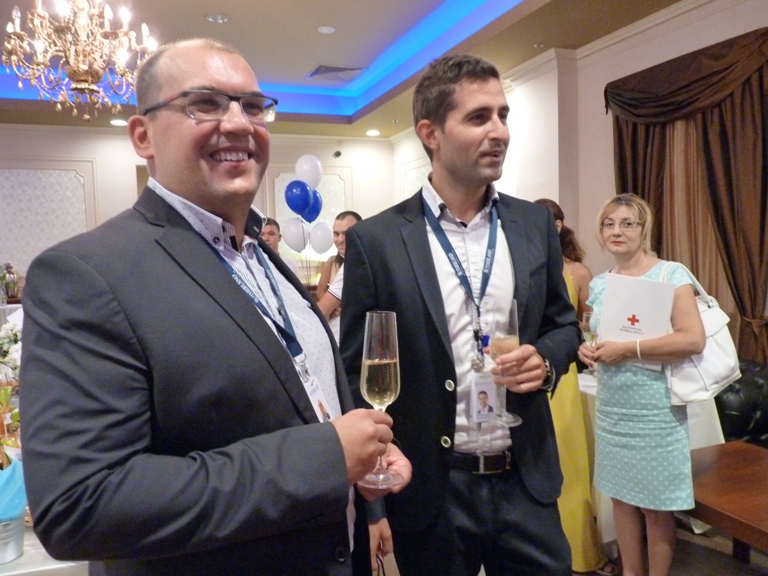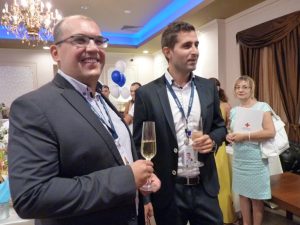 The new director for Burgas – Alexander Milev was also presented to the media. He said that the company is looking for job applicants with basic computer skills and strong motivation, and that the age is not of great importance. The company employs people between 20 and 50 years. "We focus primarily on the level of language. It must be good enough to serve clients and to answer the basic questions via e-mail and telephone. We are not only working with people between 20-30 years, but also with ones between 40 and 50, who meet our expectations" said Milev.
Sutherland is currently trying to attract people employed in tourism who are looking for work during the winter period. "We have a relocation package for Burgas citizens or people from other cities that want to work with us" said Milev. He himself is an example that of a person who moved from Sofia to Burgas in the name of his career development.
Source: burgasinfo.com