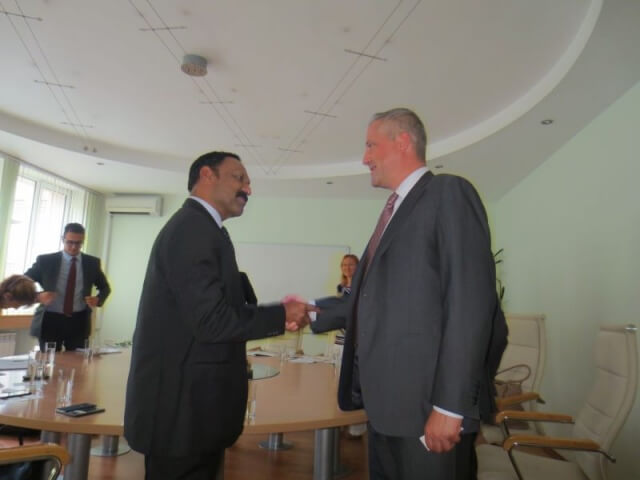 US-based Sutherland Global Services group is expected to open 3,000 new jobs in Bulgaria over the next three years, the Economy Ministry in Sofia has announced citing the group's Chief Commercial Officer K. S. Kumar.
Sutherland Global Services is seeing Bulgaria as a servicing centre for its European customers and plans to invest about EUR 10M into the expansion of its Bulgarian unit, it emerged after a meeting between  K. S. Kumar and the country's Economy Minister Bozhidar Lukarski in Sofia in Friday.
Sutherland Global Services, is studying new locations to expand its future operations in Bulgaria and is seeking opportunities for collaboration with Bulgarian universities.
K.S. Kumar said that the company aims to create centers of excellence in Bulgarian universities to train qualified experts in high-tech business processes, the Economy Ministry said in a press release.
At the meeting with K.S. Kumar, the Bulgarian government presented the business opportunities offered by Sofia Tech Park as a center for innovation and new technologies in which joint projects can be implemented by highly qualified employees.
Established in 1986, Sutherland Global Services is a Business Process Outsourcing (BPO) company with more than  30,000 employees worldwide. It provides integrated platform-based and analytics-enabled business cycle support solutions for major industry verticals and global industry leaders.
Opened in 2008 in Sofia, Sutherland Bulgaria is a multi-lingual customer service hub. In 2013 and 2014 Sutherland Bulgaria opened two new BPO centres, in Sofia and Burgas. The three centres now employ a total of 1,100 people providing technical support and customer service in many European languages.
Last year, Sutherland Global Services added five customers serviced by its  Bulgarian centres as well as three new outsourcing activites: social media, journey management and remote infrastructure management, according to the press release.
Source: www.novinite.com