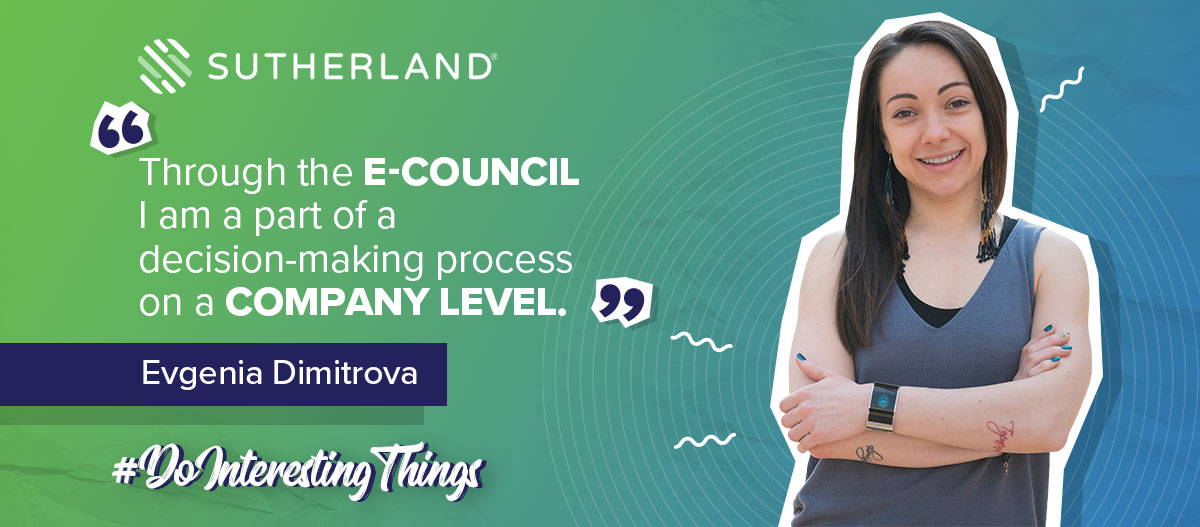 Evgenia is among those people who can't be just one thing in their life. She dances on an areal hoop and on a pole, she volunteers in our social imapct initiatives, she is inseperable part of our Quality team for over 7 years already and she is an active member of our E-council. This is Jenny! She what interesting things she does at Sutherland as part of our E-council.
Sutherland: Hi Jenny, introduce yourself to the audience.
Jenny: I'm a Quality Specialist since 2015. I've been working at Sutherland for more than seven years now in one of the biggest projects in the company. My role and responsibilities are mainly in the field of customer experience. I monitor transactions between the consultants and the customers, evaluate them and provide feedback to the colleagues. Together with the Operations team we build action plans for team improvements.
What keeps me so long in Sutherland is the people and the dynamics of the business. I learn new things and gain new experience all the time.
S: We've heard you part not only of the Quality team, but also a part of another special team at Sutherland. Tell us about that.
Jenny: I was invited to apply for E-Council in 2018 by one of the members. He believed I'd be a good addition to the team as I often have fresh ideas. I think that was the time when the team started growing. To be part of the E-council you should be first, a very proactive person, because as a member of the team, you have additional and different tasks and responsibilities. Also, you should have a creative thinking, but I like this challenge because it develops my organizational skills, communication skills, teamwork, and all of them are very important for any job. And even in personal life.
S: Share an example of a campaign you participated in as part of the E-council.
Jenny: I aim to participate in every campaign organized and owned by E-council, which means Christmas parties, Sutherland Birthdays, workshops, charity initiatives, etc. For example, when it comes to parties organized by Sutherland, I often perform, I either sing or dance on an aerial hoop or on a pole. Maybe you have seen me already. I was there when we were preparing Easter food packages for people in need. I am there when we are packing Christmas presents for the employees, I am there when we brainstorm about any campaigns. I am there when some organizational activities are necessary for Sutherland events. 
S: Share 3 things that you like about being part of the E-council.
Jenny: What I like about the E-council is that it develops my organizational and communicational skills. I also learn new things, and I am a part of a decision-making process on a company level. I definitely see Sutherland as a place where you can get involved in different initiatives apart from our regular responsibilities.