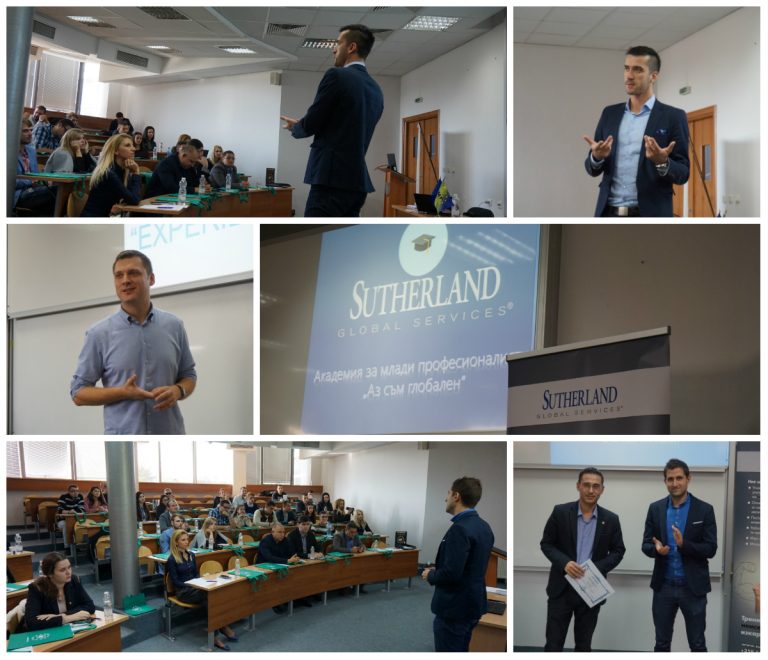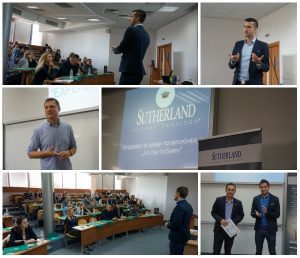 In the auditorium of the Burgas Free University young professionals from Burgas and the region attended the free training "I am  global", which took place on October 22. The free event was organized by the National Association "Youth Voice" and Sutherland Global Services.
The primary purpose of the academy was to improve the skills and knowledge of the participants for working in an international company by presenting how does the world market operate, what do employers look for in an employee and form basic concepts, components and global knowledge of the international market.
"The growing demand for Internet and new technology products is extremely important in the selection of a location for business outsourcing. That's where Bulgaria is a strategic choice for developing this type of business. Today, it is easier to be online anywhere in the world. That is why working from home has become a common practice on the market." said Aleksandar Milev, Head office in Burgas at Sutherland Global Services.
"A CV is considered as the face of a young person. The global business expects job seekers to present themselves in a creative way. Employers should be impressed by the resume of the candidate." said Zlatin Georgiev, University Recruitment Manager at Sutherland Global Services.
"The view of a full hall with young people with active spirit and energy for development is inspiring. The future is in them, the future is in the young people. We are thankful for the fact that, in Bulgaria, we are the largest organization working day in and day out for developing the potential of the young people in Bulgaria. We are continuing the fight for a secure and stable future of the country." said Todor Yosifov, National leader of the national association "Youth Voice".
Source: mg2007.bg