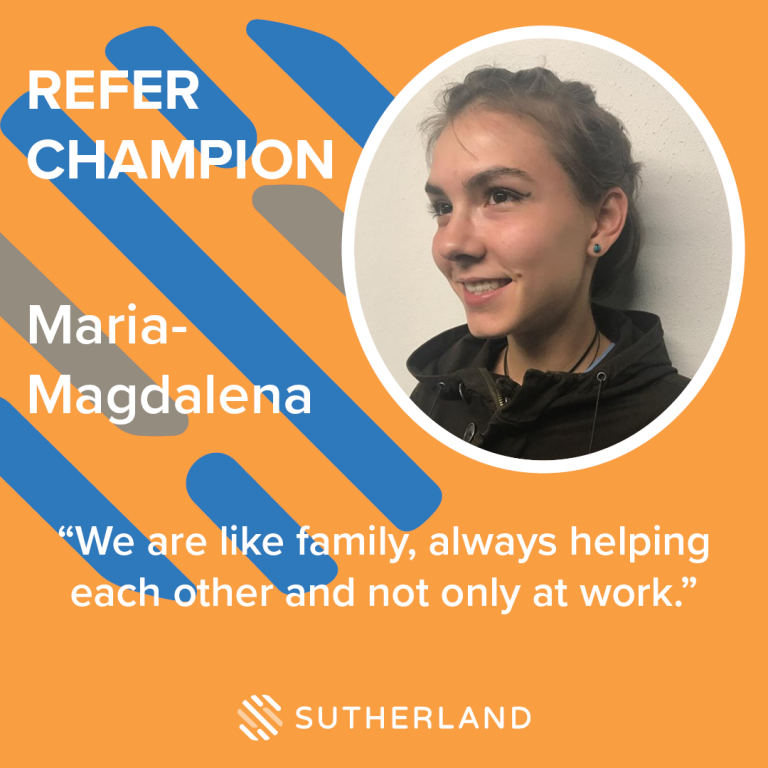 Sutherland is known for opening doors and starting careers. One initiative that has contributed tremendously to this is our outstanding REFER program. Through this program, employees are afforded the opportunity to refer family and friends who they deem capable of contributing to our dynamic team environment. Meet one of our Refer Champions, Maria-Magdalena, who's helping our team grow by referring her friends!
1. How did you react when you found out you were a Refer Champion?
I was surprised, actually I was not aware that the initiative existed.
2. What qualities do you look for when identifying people to REFER?
I look for positive people with good communication skills mostly.
3. How do you ensure that your referrals complete their applications?
Usually there is no need to ensure, because most of my friends already have the skills required for such position and/or previous experience in a similar work environment, (how modest of me :)), but I keep in touch with them and give them some advice if needed.
4. What do you enjoy most about working at Sutherland?
I found great people here, the Spanish team is the best one. Everyone has their own craziness, despite that, we are like family, always helping each other and not only at work.
5. What is your best personality trait? What makes you unique?
My eyebrows, they help me express myself in a way that nothing else could, and my name, most of the people I meet for the first time don't believe me :D. If talking about characteristics, then it would be my ability to filter the people in my life.
6. What is the best advice you have ever received at work or in life?
People all around the world, stop biting your nails. Second, very important, if you have nothing to say, then don't say anything at all.
7. What do you enjoy doing outside of work?
Reading mostly, going to the theater and traveling as much as I can.
8. If you could have one superpower, what would it be?
I've been thinking about this many times and I've thought about every superpower (would be great to have them all, right?), but in the end teleportation definitely beats everything else!