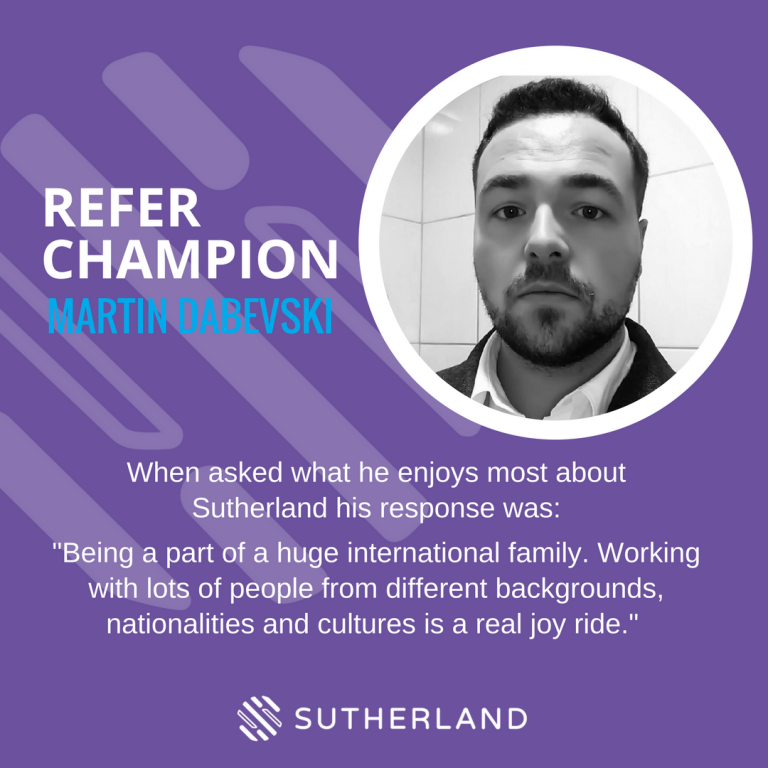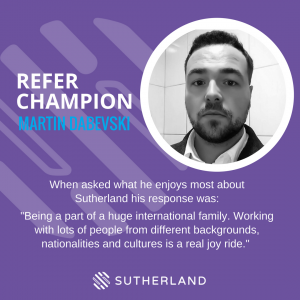 Sutherland is known for opening doors and starting careers. One initiative that has contributed tremendously to this is our outstanding REFER program. Through this program, employees are afforded the opportunity to refer family and friends who they deem capable of contributing to our dynamic team environment.
How did you react when you found out you were a Refer Champion?
I was a bit surprised as it was unexpected, but to be honest I find it really cool. Being a champion is always a good thing.
What qualities do you look for when identifying people to REFER?
I always look at the language level, as this is a crucial skill a candidate should possess. Language is, in the end, the most important tool we use every day to deliver a bit of happiness to our customers. I look at the character of the person, too, because I want to be sure that he or she will get along with the team. Teamwork is super important as well.
How do you ensure that your referrals complete their applications?
The main trick that I have up my sleeve is transparency. When we meet with a potential candidate I lay out as much information as possible regarding the work. I want the person to be informed what we do here at Sutherland, so that they can make an informed decision. This way they can picture their future in the company.
What do you enjoy most about working at Sutherland?
Being a part of a huge international family. Working with lots of people from different backgrounds, nationalities and cultures is a real joy ride.
What is your best personality trait? What makes you unique? 
I think that I am super easy-going and communicative. I can chitchat with all kinds of people. I think that this is a quality that not everybody possesses and it's precious nowadays.
What is the best advice you have ever received at work or in life? 
The best advice – not everybody will like you, so just accept it. I think that this goes well in both my personal and work life.
What do you enjoy doing outside of work? 
Going to the movies, hanging out with friends and meeting new people 🙂
If you could have one superpower, what would it be?
I'm torn between teleportation, which will come handy when I'm running late, and telekinesis, being able to get the remote from the table without moving from the couch on the occasional lazy day would be bliss.