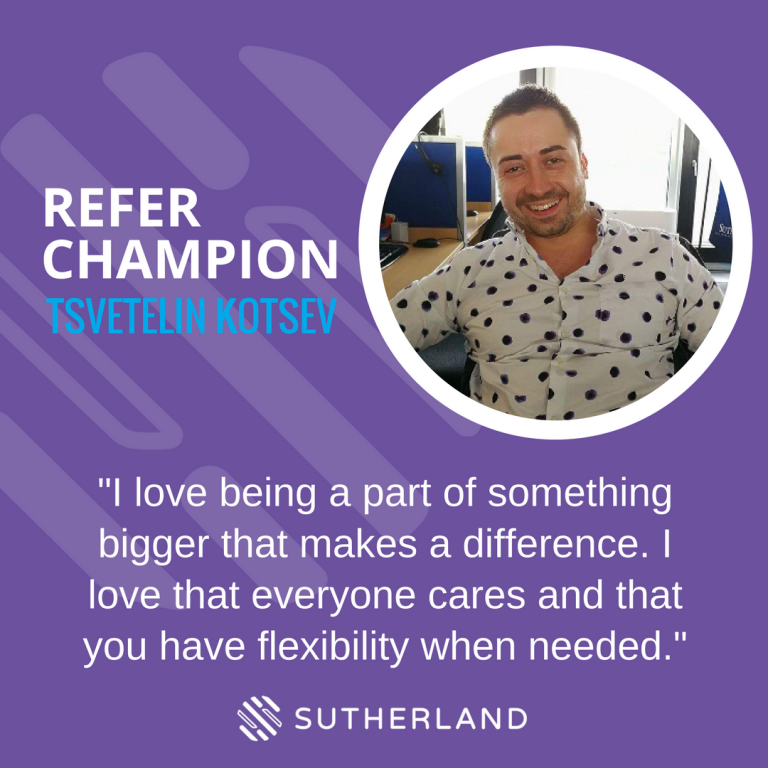 Sutherland is known for opening doors and starting careers. One initiative that has contributed tremendously to this is our outstanding REFER program. Through this program, employees are afforded the opportunity to refer family and friends who they deem capable of contributing to our dynamic team environment.
1.How did you react when you found out you were a Refer Champion?
I am very happy and proud with this prize, appreciate.
2. What qualities do you look for when identifying people to REFER?
Usually I refer all friends and ex-colleagues if they are interested in this matter.
3. How do you ensure that your referrals complete their applications?
I try to refer only serious and experienced candidates.
4. What do you enjoy most about working at Sutherland?
Great people attract great people. It's a pleasure to work with the people in this company and they make it enjoyable to come to work. I love being a part of something bigger that makes a difference. I love that everyone cares and that you have flexibility when needed.
5. What is your best personality trait? What makes you unique?
Loyalty is a good quality to possess, making others trust you. Being honest and taking responsibility for your actions are admirable qualities.
6. What is the best advice you have ever received at work or in life?
"Put your head down and work hard. Never wait for things to happen, make them happen for yourself through hard graft and not giving up."
7. What do you enjoy doing outside of work?
Jogging.
8. If you could have one superpower, what would it be?
Flying.