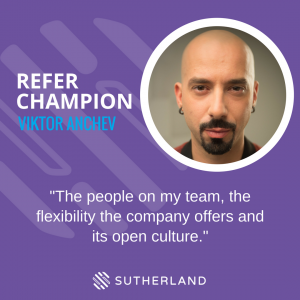 Sutherland is known for opening doors and starting careers. One initiative that has contributed tremendously to this is our outstanding REFER program. Through this program, employees are afforded the opportunity to refer family and friends who they deem capable of contributing to our dynamic team environment.
1.How did you react when you found out you were a Refer Champion?
Being humble is not my characteristic at all. I felt flattered and felt like, well…well deserved.
2. What qualities do you look for when identifying people to REFER?
Hearty people with skills that would benefit them and the company.
3. How do you ensure that your referrals complete their applications?
I do not follow up on that since they do pretty well.
4. What do you enjoy most about working at Sutherland?
The people on my team and the flexibility the company offers and its open culture.
5. What is your best personality trait? What makes you unique?
I like to stand out, express my opinion and emotions.
6. What is the best advice you have ever received at work or in life?
Not to rush and get time to look at a given situation from as many angles as possible. This calms your ego also.
7. What do you enjoy doing outside of work?
Catching feelings, social life and music.
8. If you could have one superpower, what would it be?
Taking to people.