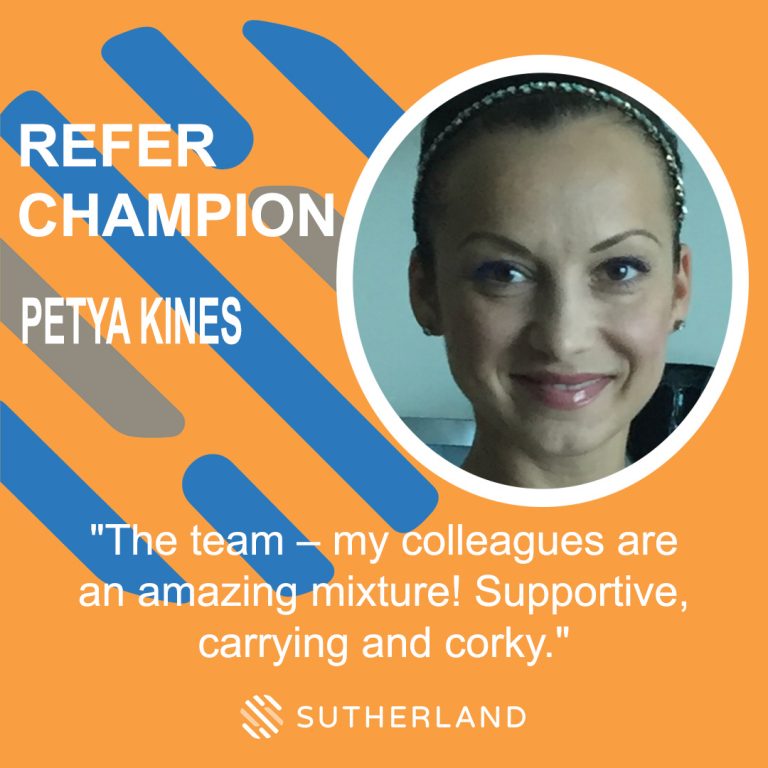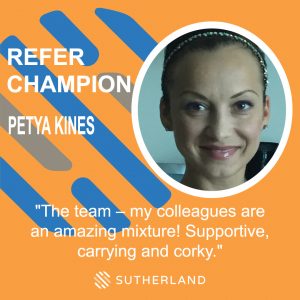 Sutherland is known for opening doors and starting careers. One initiative that has contributed tremendously to this is our outstanding REFER program. Through this program, employees are afforded the opportunity to refer family and friends who they deem capable of contributing to our dynamic team environment.
1. How did you react when you found out you were a Refer Champion?
Surprised and pleased . Acknowledgment in any team and organization matters.
2. What qualities do you look for when identifying people to REFER?
Responsibility, consistency and  positivism.
3. What do you enjoy most about working at Sutherland?
The team – my colleagues are amazing mixture! Supportive, carrying and corky. 🙂
4. What is your best personality trait? What makes you unique?
My caring nature.
5. What is the best advice you have ever received at work or in life?
Work will never finish, take it easy and not personally.
6. What do you enjoy doing outside of work?
My children and active sports, both takes the energy out of you in a positive way. 🙂
7. If you could have one superpower, what would it be?
I do not believe in superpower, at the end of the day we have a superpower within, you just have to find it. 🙂