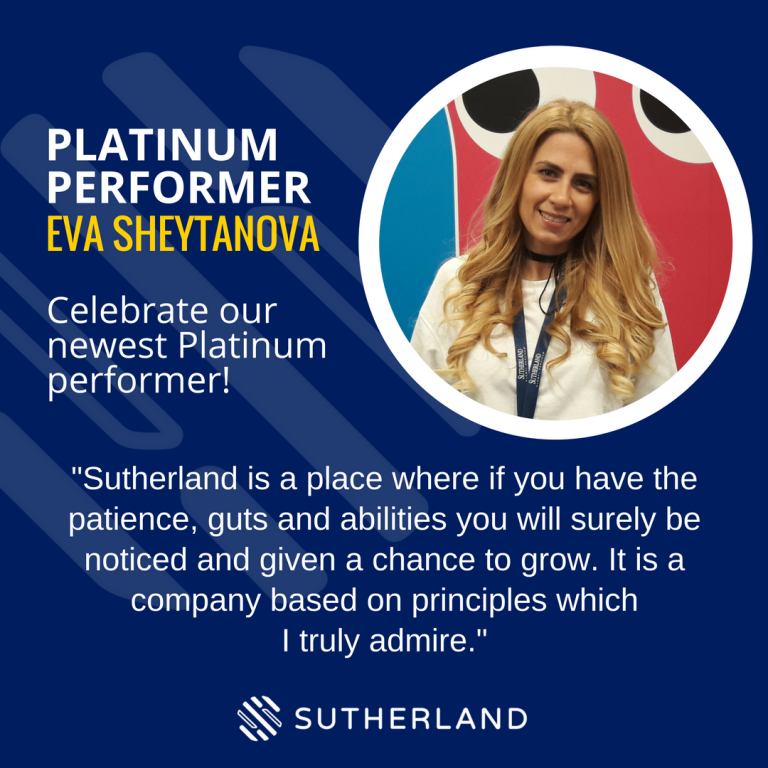 Sutherland has a plethora of incredible people. However, we have many who are willing to go the Extra Mile. In acknowledgment of their efforts, we honor them as a Platinum Performer. Meet Sutherland's latest awardee – Eva Sheytanova.
1. How and when did you come to Sutherland?
I came to the company in November 2013 when a new German project took off in Sofia. I had just returned from Germany and was looking for a good job opportunity in Bulgaria. I started as an agent and shortly after that became a Lead.  I moved to Burgas for the project's new launch and I was able to work with the teams in both Sofia and Burgas, progressing from a Lead to a Senior Consultant. After one year of motherhood, I came back to Sutherland and was given the opportunity to participate in the launching of the company's Italian project as a Team Manager, and I'm very proud of how fast and well it is developing.
2. What gets you up in the morning? No, not your dog or alarm….but what really drives you to get up and give your best each day?
The coolest people I have ever worked with, the team I'm in is truly outstanding. We are situated in three sites now, but whenever I need support from someone, I just reach out and they are all there for me. This is something outstanding and I feel lucky and blessed to be part of this amazing team. These people are the reason why this project has developed so much.
3. What would be your advice to someone who wants to work in your position at Sutherland?
Show responsibility, work hard, learn from your mistakes and do your job as it is the last thing you will do. Think outside the box and do not be afraid to do what you have to do.
4. What makes Sutherland stand out from your previous employer(s)?
Sutherland is a place where if you have the patience, guts and abilities, you will surely be noticed and given a chance to grow.  It is a company based on principles which I truly admire. Most of all, here you are learning from people who know really well what they are doing, which is my greatest inspiration.
5. What's the best advice you've ever received at work or in life?
In work I have received much helpful advice but the one I received recently was "Think outside the box so that you can be ahead of things" is the one I am starting to believe in quite strongly.
The best advice in life, which I'm always following is: "Always do what makes YOU happy and do not hesitate to say NO when needed". I'm a person who loves my own self and is following this advice quite strictly.
6. What are you looking forward to the most in 2017?
The growing of the Italian team. I'm so happy with this project and believe so badly in its success that cannot wait to see what will come in the future. I am sure that we will rock and I'm more than happy to be a part of this magnificent Sutherland team.
7. What do you do outside of work? 
Not much, I have an year-and-seven-months-old daughter so in my free time she is managing me. When it has to be something personal, I love massages and little beauty treatments which help me get rid of the stress.
8. What three words best describe you?
Charm, Guts, High Heels. 🙂
9. What are your favorite snacks or food to bring to work?
Coca Cola and Marlboro (I live very healthy).