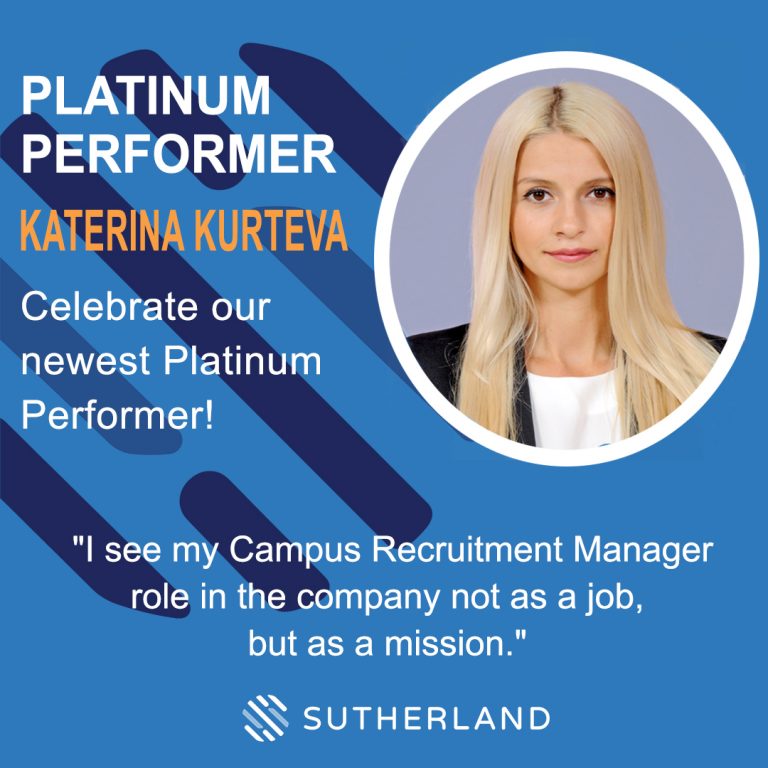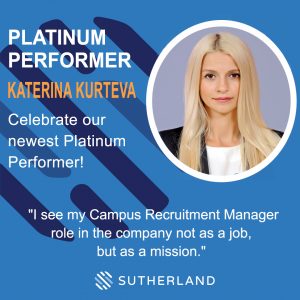 Sutherland has a plethora of incredible people. However, we have many who are willing to go the Extra Mile. In acknowledgment of their efforts, we honor them as a Platinum Performer. Meet Sutherland's latest awardee – Katerina Kurteva.
What gets you up in the morning? No, not your dog or alarm….but what really drives you to get up and give your best each day?
Every morning is a new opportunity to start afresh, to take up new challenges, to make some person smile because of you, to make a difference in the society in your own way, to forgive someone, to learn from your mistakes and make each day better than yesterday.
2. Tell us something about Sutherland or your role specifically that others may not know.
I see my Campus Recruitment Manager role in the company not as a job, but as a mission. Every day I meet a lot of intelligent people who are at different stages of their career path and education. My goal is to introduce students to Sutherland's values, to our employer's branding, career opportunities and my mission is to help them recognize what jobs they are suited for based on their talents, personality and ambition.
3. Who at Sutherland has made the biggest impact on your career and why?
Everyone with whom I work influences me and this is great! Their different characters, experience and behavior enriches me as a person and as a professional.
4. What do you do outside of work?
I love traveling. It allows me to learn and to love other cultures, marvel at beautiful landscapes, and value what I have. If you're open and willing, travel will make you an incredibly more well-rounded human being. And that's really the goal, isn't it?
5. What three words best describe you?
Positive, energetic, adaptive.
6. If you could have one superpower, what would it be?
My super power would be the power to give people superpowers. Including myself. Then I could have any power, and it would be unlimited.