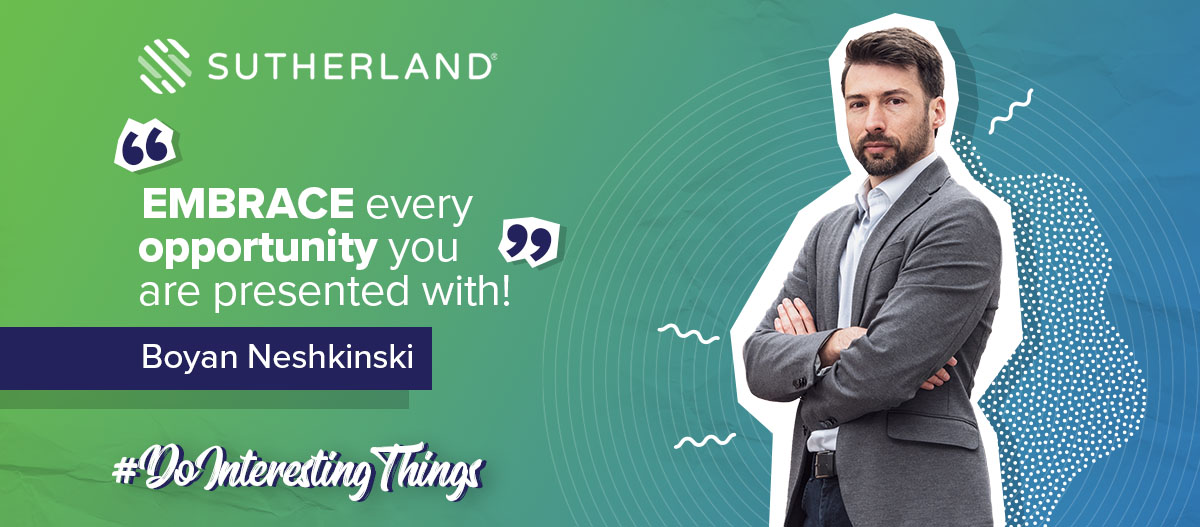 At Sutherland, we also like to say that you can do interesting things, and we mean it. A new opportunity can be just around the corner. Ask Boyan if you don't believe. In fact, we already asked him. Here's what #DoInterestingThings mean to him.
Sutherland: Hey Boyan! Introduce yourself and tell us what you do at Sutherland?
Boyan Neshkinski: I´m Boyan, part of one of our programs in Varna since its first day 3 years ago. I started as a Quality Assurance (now called Customer Experience) and shortly afterward I was promoted to a Team Manager position with German.
In the project, we are handling customer interactions by phone and email in multiple European languages. In a nutshell, I need to ensure expectations for the team are set and everyone has the tools and motivation to do their best in achieving our goals. Working with every single one of my teammates is a pleasure.
S: Tell us what other interesting things you do at Sutherland.
B: Currently I am making my humble contribution to the recruitment process for a new program we are launching. Specifically, I'm involved in the interview process to ensure a good fit between the program and the candidate. As I am very fortunate to have kept most of the original team that was hired in the project I'm working at, being involved in recruitment again is a good chance to not lose practice and stay updated when it comes to evaluating candidates and making hiring decisions.
It is both challenging and a great responsibility within 60 minutes to assess multiple factors and qualities of the candidates, as well as their potential and willingness to learn new skills within the designated training. Time and project results will tell how successful we have been in the selection, but I'm looking forward to seeing platinum results.
S: Share what you like about being involved in "extracurricular" projects.
B: Being involved in a new project is always exciting. Understanding new processes and getting into the details is always useful. I am happy that Sutherland truly gives opportunities, I have already occupied two different roles as a Quality Assurance and Team Manager. A member of my team which started as a consultant is now also a team manager, too.
I have participated in trainings and best practice sessions in Sofia and had the chance to interact with the most awesome people. I can only recommend embracing every opportunity you are presented with as you never know where and how far this can take you.
Want to join Boyan's team? Check out our open positions here!