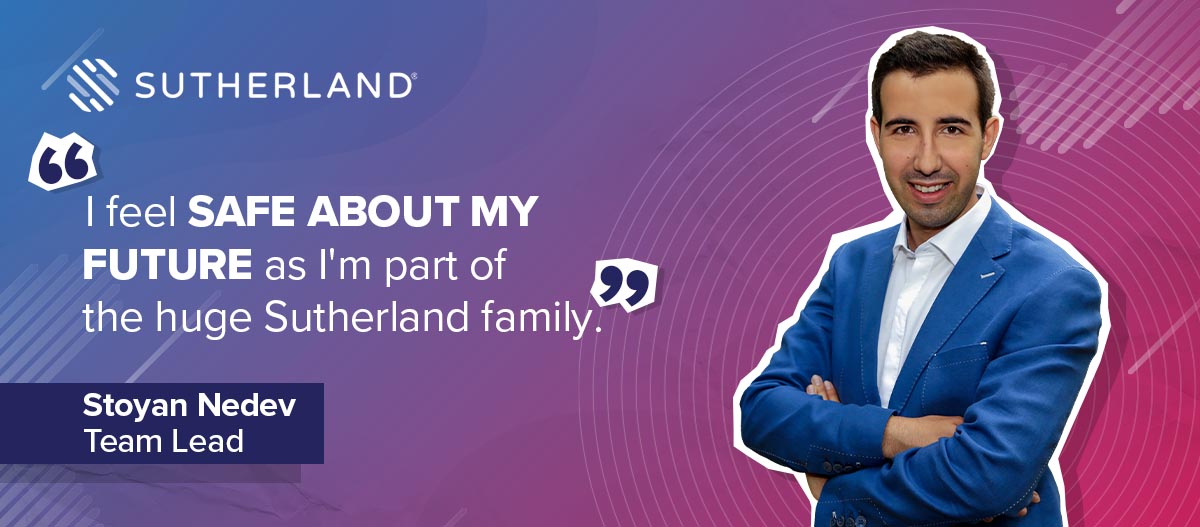 This is Stoyan, one of our #SutherlandStrong Team Leads at the Spotify program. Recently promoted to this position, his 4+ work experience here thought him how to make quick decisions and solve problems not only at the workplace, but in his private life, too. Always ready to learn new things, explore new opportunities and gain new skills Stoyan is in full swing with his new role to motivate and encourage this team, help them develop and unveil their full potential. Thank you, Stoyan, for being part of the #SutherlandFamily!
Sutherland: Hi Stoyan, please share with us your career path at here.
Stoyan Nedev: My name is Stoyan Nedev, and I've been working at Sutherland for more than 4 years now. Currently, I am taking the position of a Team Lead. I started my journey as an advisor with French 4 years ago. One year later, I was already one of the language experts for the French team. At the end of my second year, I was promoted to the role of a Subject Matter Expert and a couple of months ago I became a Team Lead.
S: Any new skills you've developed over the years? 
SN: Over the years I've definitely developed some new skills – I became more responsible and organized, more self-confident and adaptable. My participation in the Team Manager University also had a really positive impact for the Team Lead position which I'm currently taking.
S: Which of your qualities helped you to grow here?
SN: The qualities which helped me get to where I am now, are motivation, dedication, and hard work. I believe those are essential for anyone who wants to grow in a company.
S: What keeps you working here?
SN: First and foremost the dynamic work – every day is different, every day I face new challenges, which help me grow and learn new things. And second – the people I work with. Not only do they make my day brighter, but they also inspire me to achieve more. Some of my closest friends are actually people from the project. Last but not least, I feel safe about my future as I'm part of the huge Sutherland family.
S: Is there an achievement or a contribution that you are most proud of?
SN: I'm most proud of the progress I've achieved for the short time of being a Team Lead. I managed to unite my team and make them work together by organizing regular huddles and encouraging them. As a consequence, their overall results and the whole team spirit improved quickly.
S: Is there something that you want to say to your team or manager?
SN: I want to say a big thank you to my team for their constant hard work and dedication. I have really amazing people in my team who always give 100% to accomplish their targets and to satisfy our customers. I really appreciate their efforts and will always stand behind them. I would also like to say a huge thank you to my direct manager Viktor for the support and understanding and for being so open minded and down-to-earth.
S: What is the best career lesson you've learned so far?
SN: If you're giving 100%, your efforts will surely be recognized.
S: What is the thing that you like most about your role?
SN: The possibility to motivate and encourage the people I am responsible for – to help them develop and unveil their full potential.
S: Do you currently work from home? 
SN: Yes, I do work from home! What I like most about this model is that I have a better Work-Life Balance which helps me be more productive both in and outside of work.
Want to join Stoyan's team? Check out our open positions

 

here!