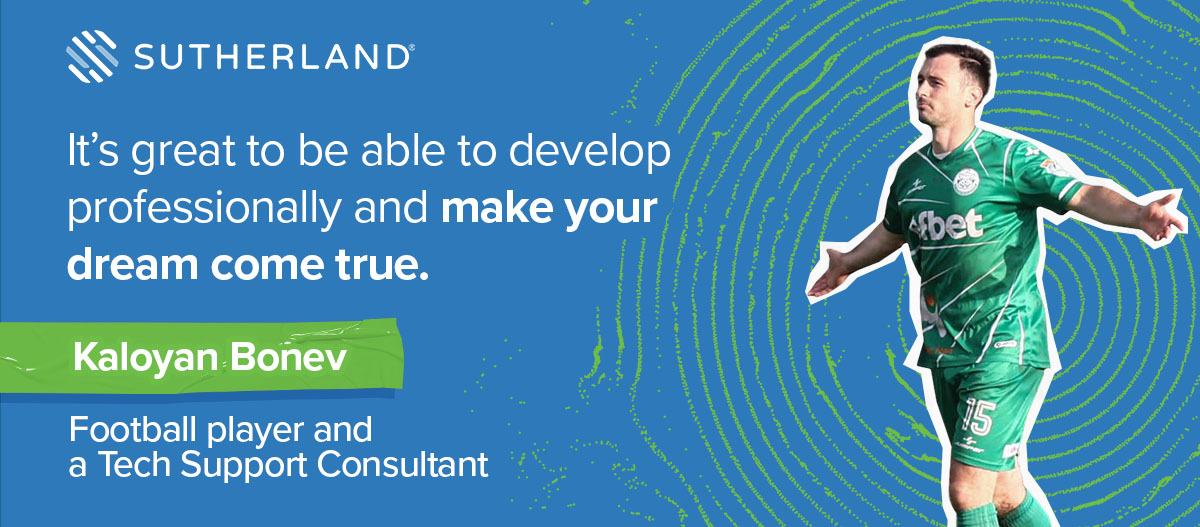 Kaloyan is a striker, a football player from Sofia, and a Tech Support Consultant at Sutherland. He loves his German shepherd Ajax, laughs all the time, even when he shouldn't. Sutherland crossed his path at a time when he needed stability. His favorite football player is Ronaldo, and he even got the same haircut as him as a kid. In his job he prefers to call the customer proactively, instead of writing long emails. Kaloyan is another example that at Sutherland you can #BeYourself and chase your dreams. Check out his story.
Sutherland: Tell us about your professional experience as a football player?
Kaloyan: I am playing football since I was a child, and this is my dream – to be a football player. I've always wanted to play in the biggest clubs in the world. My father showed me the first moves with the football ball. We played with him every day. He is my first coach who developed my skills and continues to advise me before every football game.
I went to the CSKA Sofia Youth team when I was 12 and I played there till I turned 18. I have some games with the men's team when I was 17 -18 years old, as I was described as a big talent from the trainers. I have played in different clubs from Switzerland and Austria as I won a lot of championships with them. Now I am playing in Balkan Botevgrad in the Third League of Bulgaria, and we are on 1st place. I am the top scorer of the team as I have 10 goals from 15 matches. Here is my YouTube channel where I have uploaded some of my goals.
S: Share some of the moments you felt most proud of in your career as a football player.
K: There are a lot of such moments, but I think I feel most proud when I win a cup with the team where I play or when we win a championship.
S: Tell us about your last game. How was it?
K: The last game was on Saturday and we won 2:1 vs Septemvri II Sofia. Maybe this game was among the hardest matches this season because the team from Sofia scored the first goal in the match and we needed to score 2 goals more to be able to win this game and save the first position in the ranking.
S: How did you find out about and why did you join Sutherland?
K: Sutherland was for me the next step in my life in the moment when I needed to have more stability. I have joined the team because after I came back to Bulgaria, I did not find the wished salary, conditions, and development in the clubs where I played in 2014 – 2017. I have decided to play as an amateur. Sutherland was the right place to have possibility to improve my language skills. During the time in Austria, I was able to learn German very well and this helped me later to join the Sutherland family.
S: Tell us about your position and your project at Sutherland.
K: Currently I am providing technical and customer care support to German and English-speaking countries. My work includes generating different system reports and discussing them on weekly or biweekly basis with my line manager. I am responsible also for resolving customer's queries in a short meeting, on a call or via email. 
S: Is being a football player a good combination with your current job at Sutherland?
K: Yes, it is great to have professional experience, to develop yourself in a company like Sutherland and to be able to make your dream come true. If somebody says that it is easy to play football and work on 110% every day – wrong. It is not easy, but for me it is a dream to be a football player.
S: What do you like about your job and your team at Sutherland?
K: Maybe if I say everything will not be enough. The team is great, and it is like a small family. The best thing for me is the open communication between employees and their managers. We can discuss and speak about different things in life, work, problems, or happiness without the stress that the person on the other end is our boss.
Want to join Kaloyan's team? Check out our open positions

 

here!