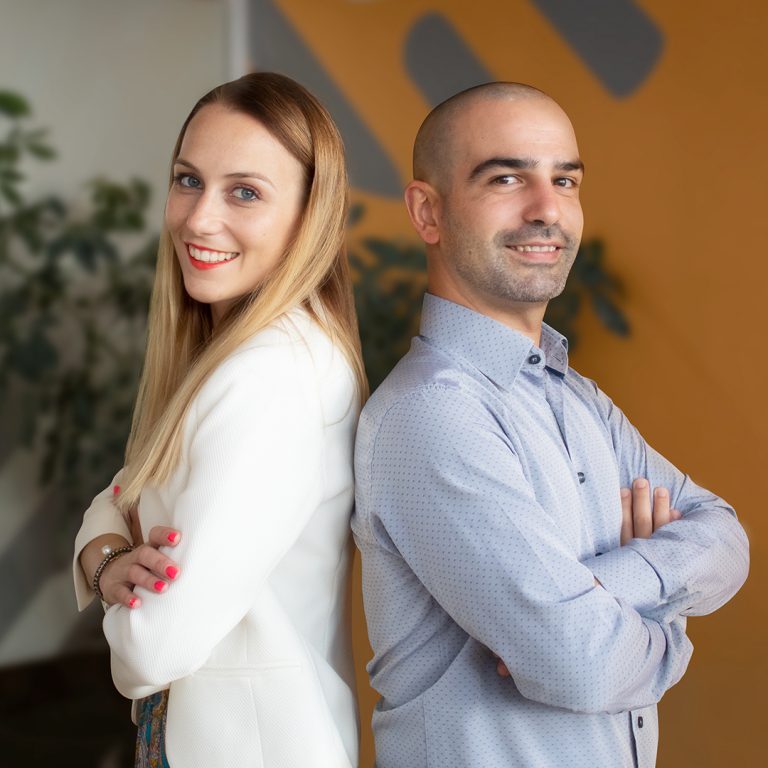 With rich history and experience at Sutherland, today Geri and Davide are our recruiters in the spotlight. They are part of the team, working at the heart of the company and hiring some of the greatest talents in Sofia. Geri and Davide have both gone through a long way at Sutherland being at the company for a while now.
Want to know what they are looking for in a candidate, what makes one CV great, and to get a piece of advice from a professional recruiter? Then keep on reading because they will share all that and much more.
What do you most often look for in a candidate? What can impress you?
Davide: There are many different skills that are important to consider in a candidate, such as work experience, languages, academic background, etc. but what I consider the most important aspect is the attitude. Skills can be acquired, but attitude is very hard to change.
Geri: I like people who are smiling and bring positive attitude to the interview. I don't pay much attention to the way people dress because at Sutherland we are open for everyone and we encourage people to express their true selves. We welcome people the same no matter if they wear jeans or a suit. However, I will always notice the handshake and the eye contact they make while speaking.
What would you advise a candidate before an important interview?
Davide Mameli

D: Always do a research on the company and the positions you are applying for. It makes extremely good impression when a candidate explains what attracted them to the company and what they expect from the position as well as why they believe that this position is suitable for them. Finally, be ready to answer the question "Tell me more about yourself.", this will be your main selling point during the interview. 
G: Being on time is crucial to make a good impression when going for an interview! As our office in Sofia is in Serdika Center, many candidates get lost. My advice is to spend time prior to the interview planning the journey and working out how long it will take – look up the public transport timetables or find out where you can park. Just a tip – you have 4 hours free parking time in the mall. Believe me it is not a good feeling to find your vehicle locked by a wheel clamp or stored at the nearest municipal parking lot.
What for you as a professional makes one CV attractive enough?
D: A good CV should contain personal contacts; be schematic; keywords should be highlighted; shouldn't be longer than 2 pages. That will make your CV easy to be analyzed and will maximize the chances to receive a first call.
G: Among the thousands of applications, many CVs can just look the same. In the digital world, I would say that a video resume can catch our attention instantly. Moreover, I will be impressed if the CV is well formatted, with no spelling or grammar errors and typos.
What makes Sutherland different from other employers?
D: At Sutherland you can be yourself because the atmosphere and the people are very happy and positive.
Gergana Marinova

G: If I must describe Sutherland in one word, that would be "freedom". From the first moment they called me on the phone for an interview, I feel free to be myself and to do what makes me happy. We work hard but at the same time we have a lot of new opportunities and so much fun every day. 
Please tell a memorable positive story with a candidate.
D: Every time a candidate says, "Thank you, you made my day." is a positive story to remember.
G: The first thing that comes to my mind is a candidate, who somehow remembers that we are born on the same date and since he is a Sutherland employee, he always surprises me with flowers for my birthday.
It's time. Start transforming your career.