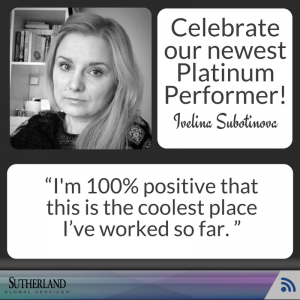 Sutherland has a plethora of incredible people. However, we have many who are willing to go the Extra Mile. In acknowledgment of their efforts, we honor them as a Platinum Performer. Meet Sutherland's latest awardee – Ivelina Subotinova.
1. How and when did you come to Sutherland?
My journey here in Sutherland began back in February 2016. By that time, I was already aware that I need a change, so I started pursuing new challenging and exciting opportunities that could fit best my personality. When I first applied for the job I didn't believe "work hard, but have a lot of fun, too" could be a successful combination. Now I am 100% positive that this is the coolest place I've worked so far.
2. What gets you up in the morning? No, not your dog or alarm….but what really drives you to get up and give your best each day?
The people I work with here are incredibly smart and kind. They truly are my inspiration to work hard, be better and give my best every single day.
3. So far in your career at Sutherland, what are your top three most important accomplishments?
I believe I've developed a strong and highly performing team. It's been an ongoing process of rewarding and engaging the advisers, motivating and coaching them. These people genuinely are our most important asset and as such I need to look after them if I want to get the best from them.
I have managed to reduce attrition to a minimum and last but not least I've become a role model by showing passion for what I do and by putting effort to improve and create things that will make a difference.
4. What's the best advice you've ever received at work or in life?
The most worthy advice I've ever received in my life is not to underestimate the power of hope. The belief that something better is possible to happen if you are willing to work for it and fight for it. The hope that if we work hard enough and believe in ourselves we could become whatever we dream of, regardless of the limitations that others may pose on us. The hope that when people see us for who we truly are they will be inspired to be their best possible selves, too.
5. What do you do outside of work?
I absolutely love spending time with my friends and family and being outside in the nature. One of the hardest things in life for many people is to feel resilient – that moment when you feel at complete peace with yourself.  The closest I've gotten to that state is when I'm in the mountain. So my advice on how to conquer stress is: go outside, hike, climb and dive, enjoy life to the fullest!
6. What three words best describe you? 
Positive. Passionate. Happy.