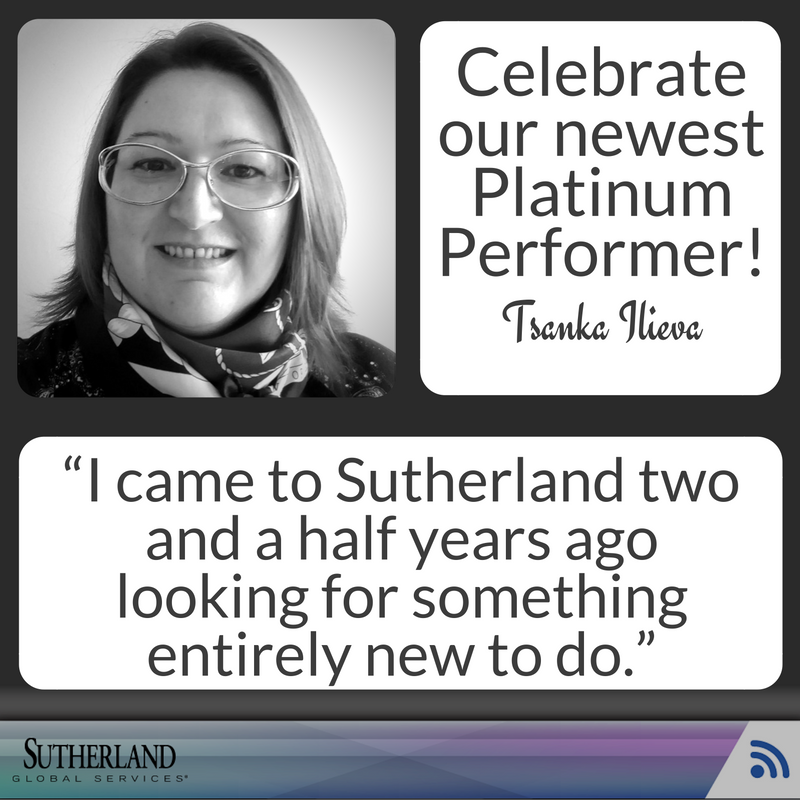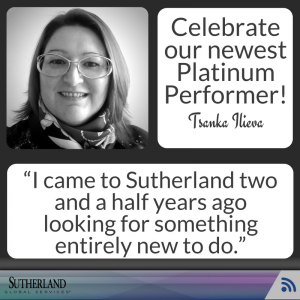 Sutherland Global Services Bulgaria has a plethora of incredible people. However, we have many who are willing to go the Extra Mile. In acknowledgment of their efforts, we honor them as a Platinum Performer. Meet Sutherland's latest awardee from our team in Burgas – Tsanka Ilieva, Team Manager.
1. How and when did you come to Sutherland Global?
I came to Sutherland two and a half years ago looking for something entirely new to do. I started as an agent, then became QA couple of months later and a year ago I became Team manager.
2. Who at Sutherland has made the biggest impact on your career and why?
My former direct manager and Quality Lead – Mai Abd El Aziz. She walked me step by step through numerous responsibilities I had under her management and was patient enough to teach me obvious things I failed to understand. I also owe her the proper mindset to set priorities, meet deadlines and targets and delegate tasks.
3. What would be your advice to someone who wants to work in your position at Sutherland?
I would advise them to be patient and try to understand everyone's reasons and motivations before making a decision. And never doubt after the decision is made.
4. Which country that Sutherland operates in would you most like to visit and why?
Dubai because I want to see man-made wonders.
5. What's the best advice you've ever received at work or in life?
That everything is temporary and nothing is for certain and permanent– neither achievements nor failure. Best decision can be a failure if not followed up properly and worst decision can work if you put your heart and soul in it.
6. If you could have one superpower, what would it be?
I would like to make all people understand each other 100% and never be hurt by other's decisions.