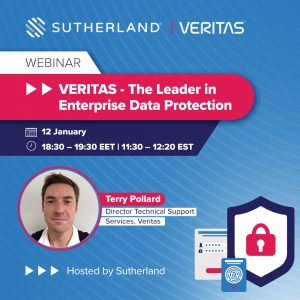 Can you imagine that 94% of companies don't survive a catastrophic data loss?
Mark January 12th on your calendar to find out why digital transformation is not an end state for companies, but a moving target, the data risks that this transformation poses, and how Veritas' solutions take information security to a whole new level.
If you are interested in enterprise data management solutions and the best backup and recovery solutions, if you want to hear about the latest trends in cloud data management, we offer you 1 hour in which Terry Pollard, Director Technical Support Services in Veritas will be speaking to us live from the UK. Terry will talk about digital transformation, IT complexity, the power of abstraction and how Veritas products and solutions take data protection to a whole new level.
Veritas Technologies is a global leader in data protection, availability, and insights, with over 80,000 customers—including 94 percent of the Fortune Global 100—rely on Veritas to abstract IT complexity and simplify data management. Veritas is among Sutherland's clients for which we provide highly complex enterprise technical services worldwide.
When: January 12th, Tuesday, 18:30 – 19:30 EET
Make your registration here.
Check out the event on Facebook for more information on Terry and Veritas.
See you there!